State gets into pillar fight with Metro
The mayor made it clear this should not be interpreted as a Centre versus state fight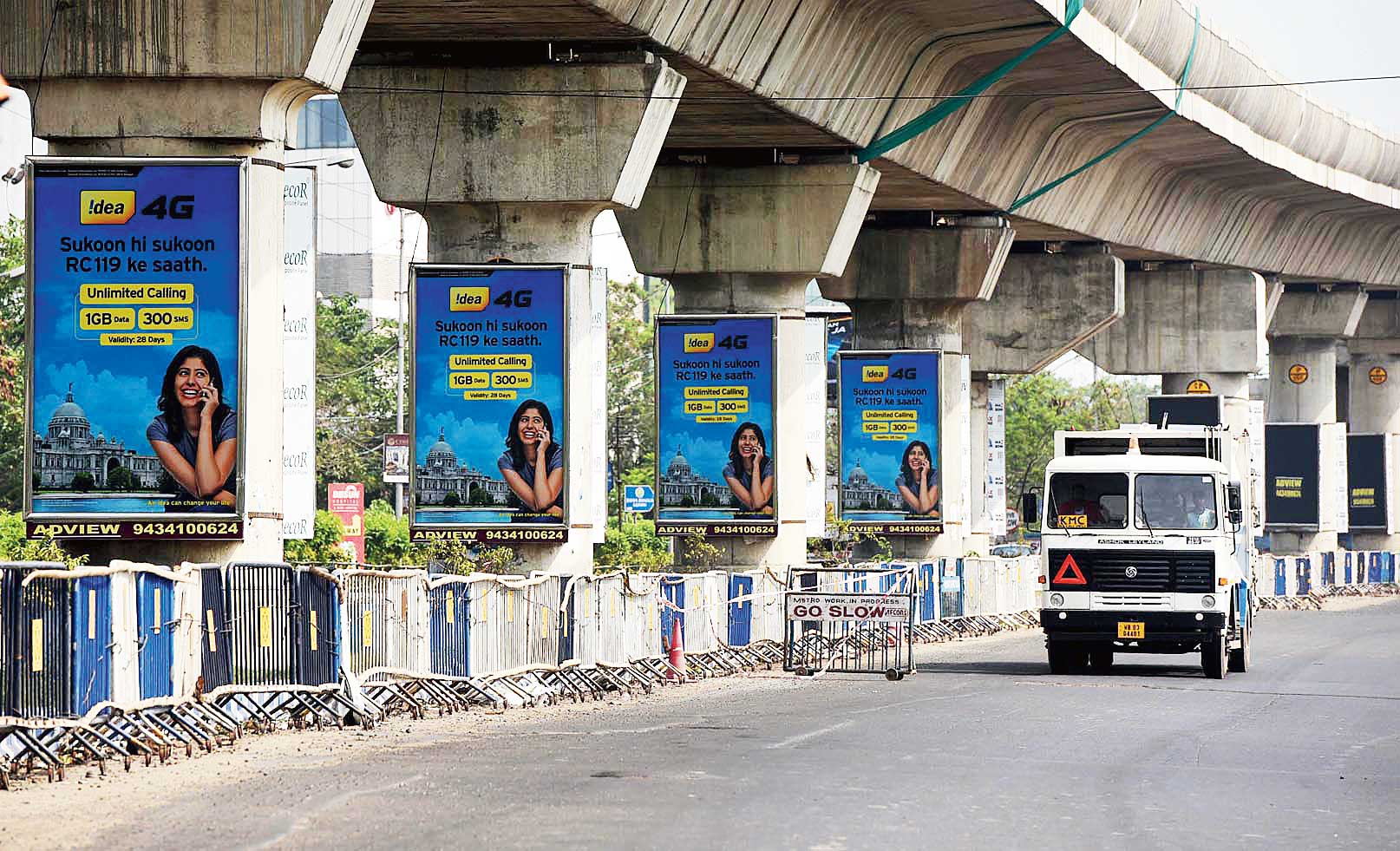 ---
|
Calcutta
|
Published 06.04.19, 08:29 PM
---
The state government has asked Metro Railway to remove advertisement hoardings from pillars of the New Garia-Airport Metro elevated corridor as it wants to create vertical gardens.
It is up to the Metro to decide what to do with its structures and allowing advertisement hoardings on railway pillars is a practice across the country, a Metro official said.
Urban development minister and Calcutta mayor Firhad Hakim on Saturday stressed the state's right. He reminded the Metro authorities that the government had waived the land price following the railway minister's request to the chief minister.
"The cost we incurred to acquire and develop the plot where the pillars have come up was Rs 257 crore. The railway minister had written to the chief minister and the state government waived the fee after a Cabinet approval," Hakim said. "Now, the Metro authorities are allowing advertisements on the pillars."
He, however, made it clear this should not be interpreted as a Centre versus state fight. He said the government's response was out of "genuine concern for the city".
"The Metro line passes through the Bypass and New Town where vehicular pollution is very high.... We want to create vertical gardens on the pillars. We will not go for any advertisements on the pillars," he said. "The government is keen on urban afforestation. That is why we want to make vertical gardens on walls and pillars of the Metro. We have done one on a Metro pillar in New Town."
The Calcutta Metropolitan Development Authority has written to the Metro authorities twice — on February 15 and on April 4 — regarding this, he said.
In the last letter, the CMDA's chief executive officer has said the agency would remove the advertisement hoardings, Hakim said.
The February letter had invited the Metro authorities to a meeting on the matter but no one apparently turned up on the day of the meeting.
"The land had been given for the construction of the Metro corridor. So the land should be used for construction of Metro tracks. Allowing advertisement hoardings on pillars that have come up on the land is not in the right spirit," a government official said.
"We have written to the CMDA on Saturday that this is the practice across India. Advertisements are allowed on railway pillars and we don't think we have violated any rule by doing this in Calcutta," a Metro official said. "The ministry has said all upcoming Metro projects must be done in public-private partnership (PPP) mode. The ministry will not fully fund any project."
In such a situation, advertisements generate revenue and it will help the Metro project, the official said. "Also, the plot has been handed over to us and it now belongs to the Metro authorities."