Sporadic violence during Sikkim bandh
bandh was partial with some business establishments remaining closed and vehicular traffic thinner than usual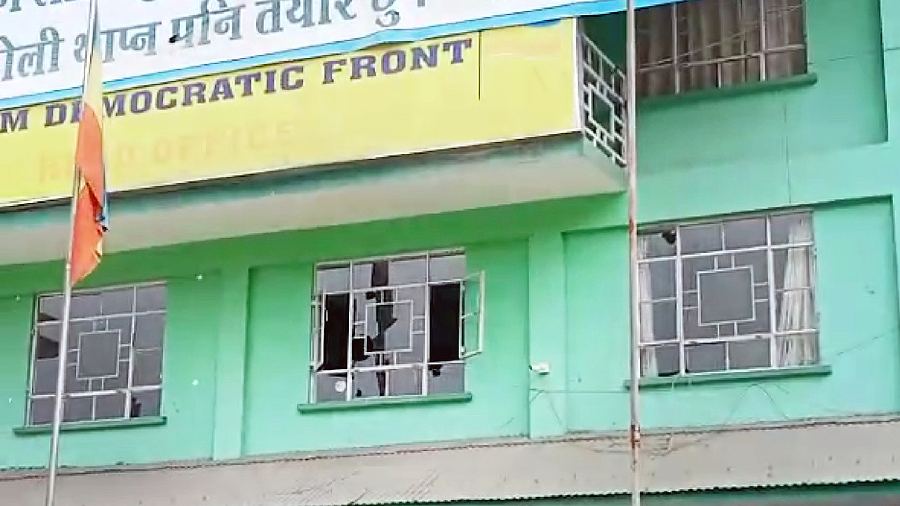 Broken windowpanes of the SDF party office in Gangtok on Saturday
---
Namchi
|
Published 05.02.23, 05:28 AM
|
---
Sporadic incidents of violence were reported from some parts of Sikkim on Saturday, the first day of the 48-hour statewide bandh called by the Opposition Sikkim Democratic Front (SDF) to protest the "foreigner" tag put on the Sikkimese Nepalis by the Supreme Court in a recent verdict.
The bandh was partial with some business establishments remaining closed and vehicular traffic thinner than usual.
Some untoward incidents were reported from Gangtok in east Sikkim and Jorethang in south Sikkim.   
The major flashpoint was the SDF Bhavan at Indira Bypass in Gangtok where stone-pelting took place. The stone pelters, who the SDF claimed were supporters of the ruling Sikkim Krantikari Morcha (SKM), attacked the office building of the SDF and the adjoining residence of party president Pawan Chamling, breaking several windowpanes.   
At Jorethang, alleged SKM supporters went to the SDF party office and assaulted an SDF supporter, but left the building alone. 
Police are probing both the incidents, but no arrest has been made so far.
"Daily life remained unaffected in most parts of the state, and no major incident occurred. We had deployed an adequate number of personnel in all the sensitive areas to maintain law and order," said a source.
While condemning the incidents of violence, P.D. Rai, the senior vice-president of the SDF, demanded the immediate intervention of the central government and wondered why Sikkim governor Ganga Prasad was not doing anything about it.
"Why doesn't the governor exercise the special power under Article 371F when such social unrest and incidents are taking place at the behest of the leaders of the SKM party?" he asked.
Sikkim chief minister and SKM president P. S. Golay said the bandh had absolutely no impact and the SDF's efforts to create unrest had failed.
"We never disrupted the foundation day celebrations of the SDF or any other party. But the SDF called a strike today to disrupt our programme. This is like throwing a challenge to us," he said at the 11th foundation day celebration of the SKM here.
He said his government had been proactive in responding to the Supreme Court remark calling Sikkimese Nepalis foreigners, and has been doing all in can to get it rectified, including filing a review petition in the apex court.
"I am going to Delhi tomorrow (Sunday) to meet the Union law minister in this regard," he said.
Golay also said that a special session of the Assembly had been called on February 9 to discuss the Supreme Court  judgment and pass a resolution seeking the removal of the remark that hurt the sentiments of all Sikkimese, not just the Nepalis.
"I held a meeting with the JAC (joint action committee) on Thursday and promised them to leave no stone unturned to get the remarks expunged," he said.