Siliguri: Drainage focus after downpour
Chennai-based private agency engaged to prepare a detailed report of the proposed project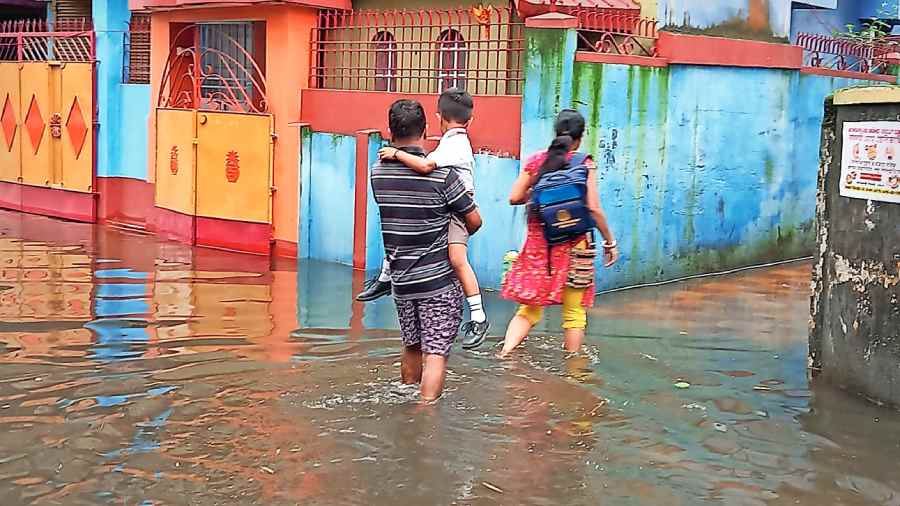 Residents wade through a waterlogged road in Sliguri on Tuesday.
Passang Yolmo
---
Siliguri
|
Published 23.06.22, 12:56 AM
|
---
The Trinamul-run Siliguri Municipal Corporation (SMC) has decided to implement a comprehensive drainage system in the city for proper disposal of sewage in all 47 wards of the city and prevent water logging during monsoon months.
A Chennai-based private agency has been engaged to prepare a detailed report of the proposed project and it would be ready soon, representatives of the civic body said here on Wednesday.
The demand for an extensive drainage system gained ground over the past 48 hours, as the city faced massive waterlogging since Monday night after a sudden bout of torrential downpour. Altogether, it had rained around 200mm within a span of three hours on Monday evening.
Ranjan Sarkar, the deputy mayor, said that till now, the civic body doesn't have a map of the city's sewerage.
"We have no inkling about the number of drains, the outlets where these drains open and other details because there is no such map. There are numerous drains across the civic area but absence of such a map is deterrence to sewerage management. That is why, after we formed the board, we took up the initiative to prepare a comprehensive drainage project for the SMC area with  a map and a detailed project report on how the sewerage of the city can improve. The project report will be ready soon," he said.
Sources in the SMC said that around five years ago, a similar initiative was taken up by the then Left-run board, but  didn't materialise because of a number of reasons, including paucity of funds.
"Once the report reaches the board, it will be sent to the state municipal affairs department for approval," said an official.
He also said that a proposal for the rejuvenation of two rivulets Fuleswari and Jorapani which crisscross Siliguri has also been sent to the department for approval.
"The estimated project cost is Rs 1.23 crore and the state municipal engineering department and the SMC will jointly implement the project," he added.
The civic body, which opened control rooms at the SMC office and in the five borough offices after Monday's downpour, has decided to run those control rooms throughout the monsoon season, said sources.
In another initiative, the civic body will launch an extensive drive against the use of single-use plastic carry bags from July 1.
The deputy mayor said that necessary campaigns in marketplaces and shopping arenas have already started.
"Use of such bags will be strictly stopped from next month," he said.