Seven-yard sari, inspired by CM and Tagore's mother
Biswa Bangla's Puja Offering: A longer drape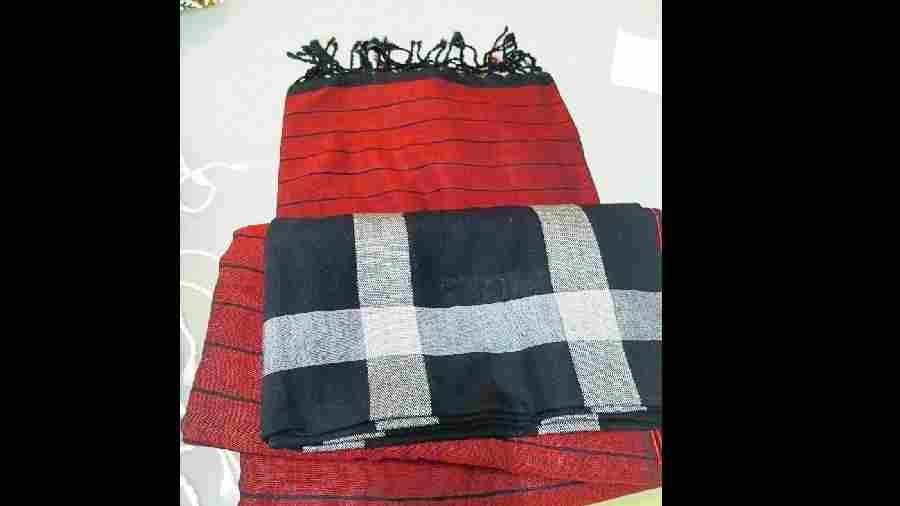 Another colourful seven-yard sari created by Biswa Bangla.
The Telegraph
---
Calcutta
|
Published 21.08.22, 01:58 AM
|
---
Biswa Bangla, a retail enterprise established by the micro, small and medium enterprises (MSME) department of the Bengal government, has decided to bring for Bengal's women a sari that stands out because of its length and is part of chief minister Mamata Banerjee's wardrobe.
Ahead of Durga Puja, the enterprise will launch a collection of seven-yard saris so far worn by a handful in the state, Mamata being the most prominent.
"The seven-yard sari has been inspired by two very formidable ladies of Bengal — the first being Sarada Devi, the mother of Rabindranath Tagore, and the second our chief minister," said Partho Kar, the chief consultant to Biswa Bangla.
The use of longer drapes is prevalent in other parts of the country, such as Maharashtra and Tamil Nadu where many women wear nine-yard-long saris. In Bengal, the regular length of saris ranges from six to 6.2 yards. However, according to Kar, there is historical evidence that many women in pre-independent Bengal wore seven-yard saris. As of now, seven-yard-long saris are available only on special orders. For Mamata, many of her seven-yard-long saris are procured from another government enterprise that deals with handlooms, Tantuja.
Speaking to this correspondent, Tantuja's lead designer Anindita Nath confirmed that Mamata was one of the very few who wore seven-yard saris regularly.
"Bengali women are comparatively short, which is why 5.5 meters or six-yard-long saris are used," she said. "Unless it is someone like the chief minister, who specifically wears longer ones."
According to Kar, once Biswa Bangla launches the seven-yard saris, anyone willing to buy it would not have to place a special order.He said seven-yard-long silk saris would cost from Rs 3,500 to Rs 5,000 at a Biswa Bangla store.