Seven dead in 2 mishaps on NH12
Sources said the group of nine labourers had reserved the Toto to go home after a month of heavy labour in Baishnabnagar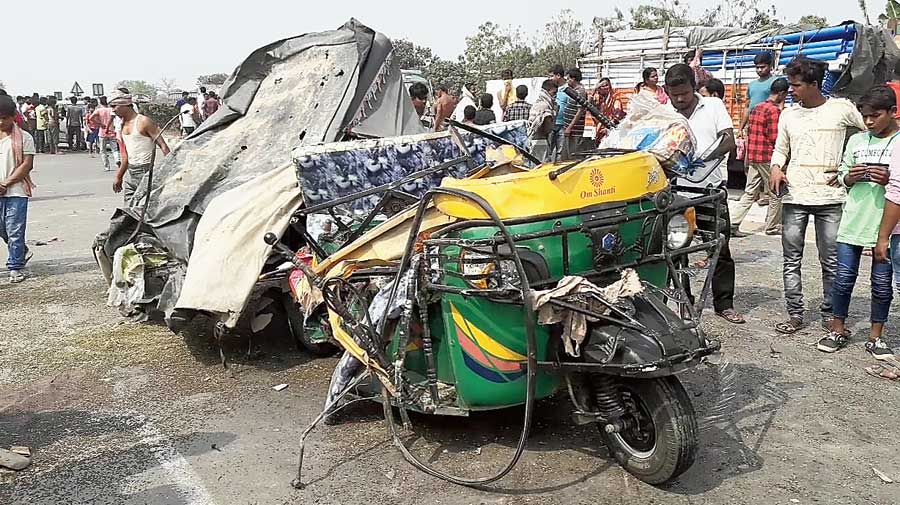 The e-rickshaw mangled by the impact of the SUV in Suti, Murshidabad, on Thursday.
Samim Aktar
---
Behrampore
|
Published 12.03.21, 01:43 AM
|
---
Seven persons, including two schoolboys, were killed in two separate road accidents on NH12 in Murshidabad's Suti and Beldanga on Thursday.
In the first accident, where five persons killed, an SUV (a Scorpio) overturned and was hurtled across the four-lane NH12 in Suti's Dhalla More around 1pm on Thursday when its right wheel came off, and the SUV careened diagonally to ram into an e-rickshaw with 10 occupants, the passengers all migrant workers on their way home to Malda from Baishnabnagar.
Both the occupants of the SUV, including the driver, were reportedly killed on the spot along with three occupants of the e-rickshaw. The deceased were identified as SUV driver Azfarul Sheikh, 25, and his friend Feroze Sheikh, both from Suti, e-rickshaw passengers Nikhil Mondal, 50, Nirvan Mondal, 35, and Subodh Mandal, 40.
Sources said the group of nine labourers had reserved the Toto to go home after a month of heavy labour in Baishnabnagar. Seven others in the e-rickshaw were admitted to Jangipur subdivisional hospital with serious injuries.
"An unnatural death case has been started and we are awaiting post-mortem results," said Jangipur superintendent of police Y. Raghuvamshi.
In Thursday's other accident, a goods truck toppled over when it tried to avoid a speeding motorbike that had rushed past it in Beldanga's Mirzapur village. The toppled truck landed on a tea stall, killing two of the four schoolboys who had been playing beside it.
The truck, which was headed towards Behrampore, was travelling on NH12. The truck driver fled.
Sources said the deceased were identified as Selim Sheikh, 12, a Class VII student at Mirzapur High School, and Iraq Hossain, 8, a Class II student at Mirzapur primary school. Two other children and the biker were rushed to Murshidabad Medical College for treatment. The toppled truck blocked one of the flanks of NH12 for at least two hours creating a huge traffic snarl on the highway.
Superintendent of police of Murshidabad K. Sabari Rajkumar said a case of unnatural death had been started and the truck impounded.
"We will find the truck driver soon," he added.