Second arrest made in Hanskhali rape case
Two others detained for questioning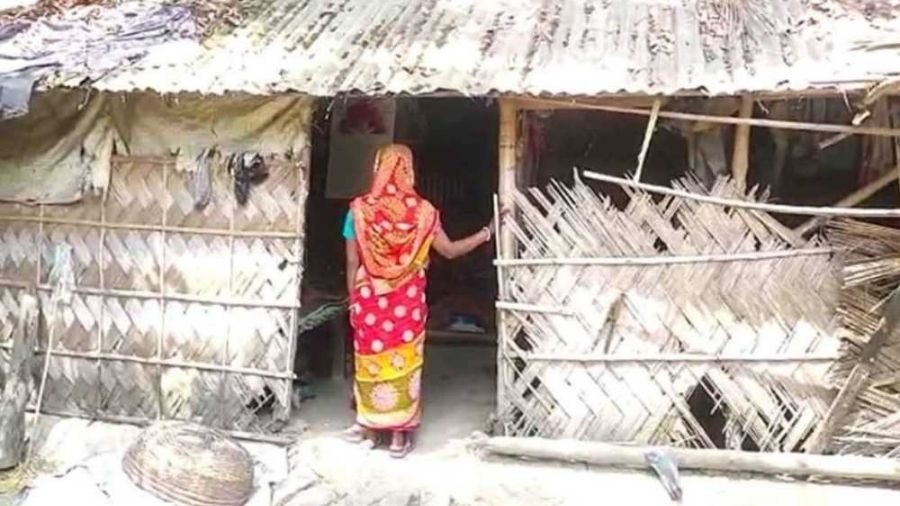 The house of the victim in Hanskhali.
Anandabazar.com
---
Nadia
|
Published 12.04.22, 12:05 PM
|
---
A second suspect was arrested early on Tuesday in connection with alleged rape of a minor girl in Hanskhali area of West Bengal's Nadia district, a senior police officer said.

He is a friend of the main suspect in the case, the officer said.

Two others have also been detained for questioning, he stated.

A minor girl was allegedly raped at a birthday party at the house of the main accused on April 4. She bled to death later that night, according to her parents who lodged a police complaint on April 9.

The main accused, son of a TMC leader, was arrested shortly after the complaint was filed.

"We have arrested another person this morning. He was present at the birthday party. His involvement is been investigated. We have found discrepancies in his versions of the incident.
Notably, Bengal chief minister Mamata Banerjee on Monday condemned the alleged gang rape and the resultant death of the girl in Nadia district but simultaneously raised questions about the delay in lodging a complaint after cremating the body.
She slammed the alleged move to implicate the Trinamul Congress in the incident even after her government arrested the accused without caring about his political identity.
"The incident is really unfortunate and I have no words to express my condolences to the girl's family. The girl died on April 5 and the police came to know on April 10. Please tell me, if someone dies on April 5 and there is some doubt or complaint regarding the death, then why was the complaint not lodged on the same day?" asked Mamata after inaugurating Biswa-Bangla Mela Prangan on Monday afternoon.
Mamata also asked why the body had been cremated before post-mortem and highlighted how it would be tough for the police to find out the reason of the death.
"Why did you burn (cremate) the body of the victim (before post-mortem)? As a layman and without knowing everything (of investigation) I am asking a question that how (police) would get the evidence on whether she was raped?" asked the chief minister.