Safety plan for medical colleges
5 security officers to be appointed; charter of duties drawn up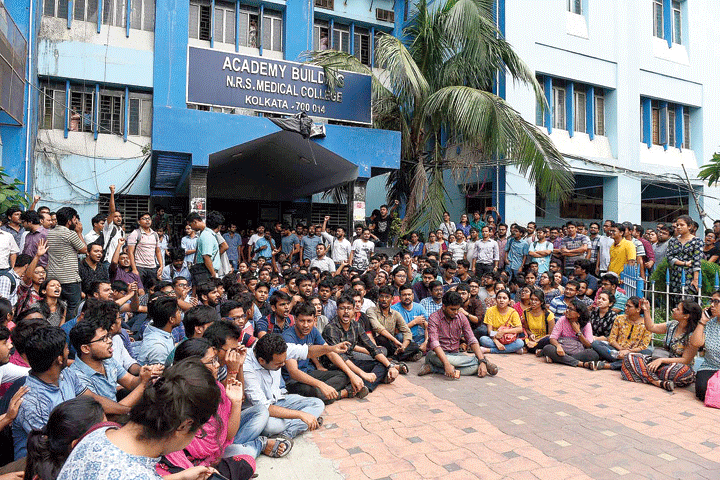 ---
|
Calcutta
|
Published 05.11.19, 08:14 PM
---
The health department will appoint a security adviser for each of the five government medical colleges in the city and assign them specific duties.
The advisers will be chosen from among retired assistant commissioners of police.
A 36-point charter of "duties and responsibilities" drawn up by the health department, with help from Calcutta police, mentions maintenance of all records relating to security, carrying out threat analysis of all vulnerable points and deploying guards accordingly.
This is the first time that the health department has drawn up such an elaborate charter of responsibilities for security officers.
The five medical colleges that will get new security officers are SSKM, Calcutta Medical College, RG Kar Medical College, Calcutta National Medical College and NRS Medical College — the last the seat of protest by junior doctors in June after two of them were allegedly attacked by relatives of a patient.
The health department notification spells out that the new security officers would be directly accountable to the principals for "all aspects of physical security" and would be responsible for implementing the measures.
"He will act as a security adviser to the director," the order states and goes on to spell out that one of the functions of the security adviser would be to ensure that security is maintained by "balanced employment of security guards in core areas/flash point areas…"
The medical colleges had a security adviser each but no specific charter of responsibilities. The officers allegedly failed to provide details of the existing system and the loopholes in security during joint inspections by representatives of the health department and Calcutta police.
"Only one of the five have been retained," a health department official said.
"The security advisers are being appointed on a contractual basis for a year. Their performance will be reviewed before their contract is renewed."
Chief minister Mamata Banerjee had assured junior doctors that necessary steps would be taken to revamp the security ring around medical colleges.
Trouble broke out at MR Bangur Hospital last Sunday when a couple wanted to force their way into the male ward to get a patient discharged. When guards stopped them, they allegedly called in more people.
The two were arrested and slapped with charges such as "voluntarily causing grievous hurt to deter a public servant" and "wrongful restraint". The maximum punishment could lead to 10 years' imprisonment.
The health department has decided to renew the exercise of scrutinising the security arrangements in these five medical colleges from Tuesday. By the end of this week, this exercise would be over, officials said.