Rush to return home
At least 2,000 labour from Bengal were still in Kashmir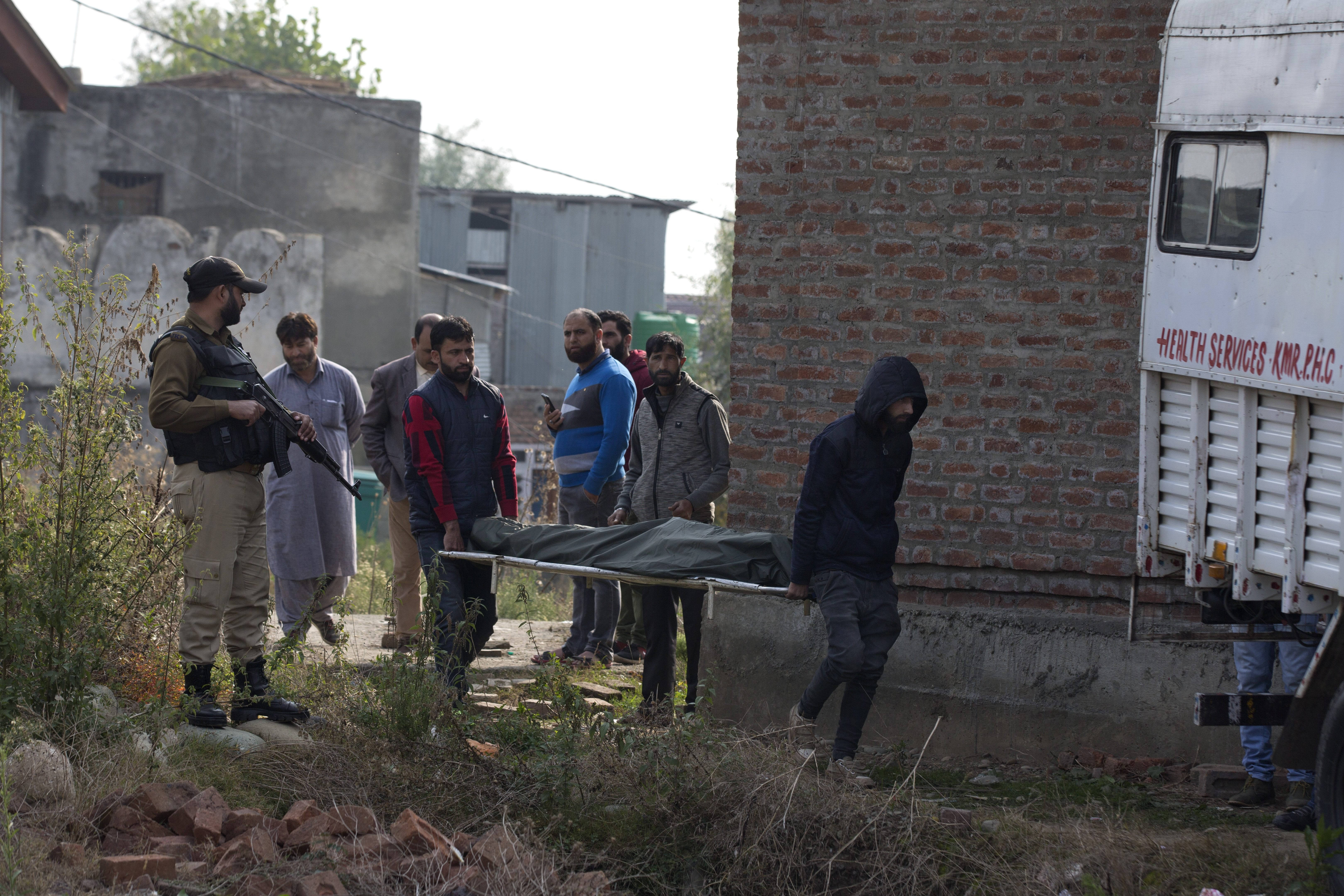 Kashmiri villagers carry the body of a migrant worker who was shot dead by gunmen towards a waiting ambulance outside a hospital in Kulgam, on October 30, 2019
AP
---
Bolpur(Birbhum)
|
Published 31.10.19, 08:19 PM
|
---
Hundreds of workers from Bengal are now in a mad rush to return from Jammu and Kashmir out of panic triggered by Tuesday's Kulgam carnage.
Labour-contractors and sources in several south Bengal districts said at least 2,000 such people from Bengal were still in Kashmir, trying desperately to come home even leaving their payments due.
Several labour-contractors said the number of workers from Bengal in Kashmir during the current season were around a tenth of the usual figure as many did not go and others returned following the developments in the Valley since August 5.
"Usually, over 20,000 people from various parts of the state would be in Kashmir now. The number is around 2,000 this time because of the abolition of the special status to the state," said Ahad Sheikh, a labour-contractor from Birbhum.
Most of the migrant workers from Bengal were from Murshidabad, Birbhum and parts of Nadia. They would mostly be employed in apple orchards in Kulgam, Baramulla, Sonawari and Kanipora.
Shahjahan Sheikh, a 40-year-old day-wage labourer from Nayagram in Birbhum's Muraroi, was working in an apple orchard in Baramulla till he found out that five Bengalis had been killed in Kulgam's Katroosa, 122km away.
On Thursday, Shahjahan and 20 others from Bengal were anxiously awaiting the vehicle they had booked to reach the Jammu railway station, around 320km away.
"We don't want to live here anymore. After what happened in Kulgam, anything might happen to us. I did not even take full pay from the orchard owner I was working for, as bank transfers here have been stopped since Internet was disrupted," said Shahjahan.
Imajuddin Sheikh, a resident of Fulsahari adjacent to Bahalnagar, said over 30 people from his village were looking to make their way out of the Valley as soon as possible.
Additional reporting by Alamgir Hossain and Subhasish Chaudhuri