Robbers raid iron plant in Durgapur & confine guards
Nearly 30 armed robbers rob manhole covers from an iron factory of Kajaria Iron and Steel Company Pvt Ltd.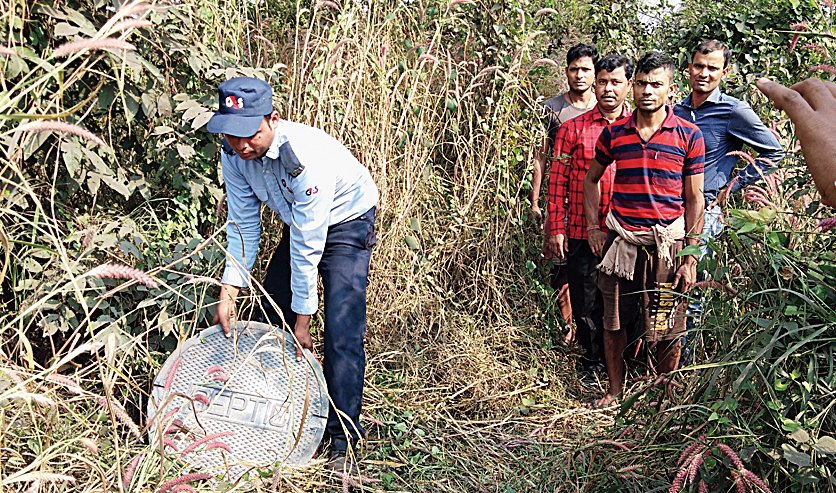 A security guard picks a manhole left behind by the robbers.
Picture by Arup Sarkar
---
Durgapur
|
Published 09.11.18, 07:56 PM
|
---
A gang of nearly 30 armed robbers raided an iron factory in Durgapur town on Thursday night, beat up three security guards and confined them to a room.
The goons brandishing revolvers and iron rods decamped with iron products like manhole covers from the factory on Raturia-Angadhpur industrial estate in the Coke Oven police station area.
"We are yet to estimate the value of the stolen products as the plant is closed on the occasion of Diwali and Bhai Phonta. But as of now, we can say the dacoits have looted a large number of finished products like iron manhole covers kept at the plant," said Keshari Nandan, the manager of Kajaria Iron and Steel Company Pvt Ltd.
Sources said the plant — a part of Kajaria group — produces iron manhole covers and frames, iron ingots and pig iron moulds and has customers in both domestic and global market.
The security guards said they had become alert after some dogs inside the plant suddenly started barking around 11.30pm. "We started patrolling around the boundary wall of our plant with torch lights but found nothing," said Umapada Sinha, one of the security guards.
Suddenly, they heard some people speaking from inside a bush. "When we approached, a group of young men armed with rods and guns emerged from the bush and chased us. We were unarmed and were helpless," said Sajal Ruidas, another security guard.
The goons beat them up and later confined them to a room inside the plant.
One of them said they saw the miscreants passing the iron products over the boundary wall.
The guards somehow managed to break the lock and come out of the room after the goons left and called the police.
The police arrived at the spot within 10 minutes and started an investigation.
Police suspect the robbers packed the looted iron products on a waiting truck outside the plant and fled after finishing the half an hour operation. The police found tyre marks on the field outside the boundary wall which indicates presence of a truck.
Local people said the police usually patrol the industrial belt at night but on Thursday night, they did not see any police patrol team. They alleged that policemen were busy enjoying a folk song programme organised on the occasion of Kali puja near Coke Oven police station. The police, however, denied the charge.
"Primarily, we came to know that the miscreants are based in the locality. Investigation is on and the gang will be arrested soon. Our police team reached the spot soon after we received information," said Abhishek Modi, deputy commissioner of police (east).