Two men were killed and four suffered injuries when a rivalry between two contractors over the construction of a culvert culminated in a shootout in a Dooars tea garden on Monday night.
Contractor Pappu Thapa, 34, and his associate Babu Mahali, 28, died from gunshot wounds in the Garganda tea plantation under Madarihat block of Alipurduar district.
Police said there had been differences between Thapa and another contractor Kundan Bhujel over works carried out on the estate where both resided. "The two contractors quarrelled over bagging contracts for government projects in the tea garden. There are reports of their involvement in illegal mining of minor minerals like sand and pebbles from the streams and rivers which flow through the central Dooars. The duo also extorted money from trucks," said a police source.
The Garganda estate is around 60km from Alipurduar.
Bhujel and Thapa had come to know recently that a culvert would be built along a road in the plantation. Both were desperate to secure the contract for the culvert construction.
On Monday night, Thapa, along with his associates, reached the house of Bhujel. A religious ritual to mark the death anniversary of Bhujel's father was going on at the home. Thapa took out a gun and fired at Bhujel and his associates who were present at the house.
The bullets, however, missed Bhujel and Thapa fled the spot.
Around 9pm, Bhujel reached Thapa's house with 30 to 35 men, many of whom were armed.
"As Bhujel started firing at Thapa, the area turned into a battlefield. Thapa and his associates retaliated with gunshots. We were trembling at our homes. The exchange of fire continued for quite some time," said a tea garden worker who stays near Thapa's house.
Sources said Thapa and five of his sidekicks had run into a nearby ICDS centre to escape the firing and taken shelter on the roof. The rival gang pounded the building with bullets, forcing Thapa and the group to descend.
Bullets soon pierced Thapa and his associate Mahali who collapsed. They were then attacked with daggers and spears.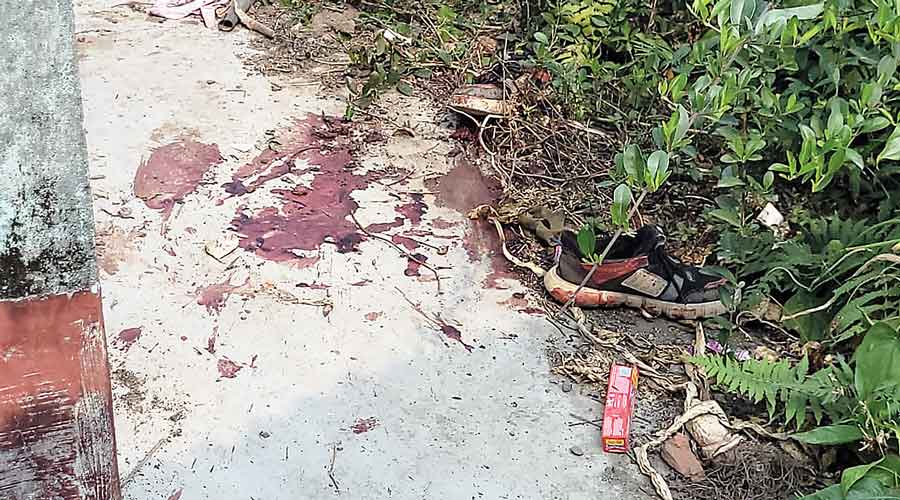 Blood stains in the garden after the gunfight. Telegraph photo
Ribesh Thapa, Deewar Thapa, Amar Nayak and Shivraj Mahali — all associates of Thapa — suffered injuries.
When the gunfight had started, Thapa's wife, Sandhya Tamang, fled the house with their nine-month-old daughter. She hid in a nearby bush and witnessed the entire incident and the murder of her husband.
"I did not dare to come out. My husband was killed in front of my eyes. I want justice," said Sandhya.
Later, the police arrived and seized the bodies. The injured were taken to a local health centre and later shifted to North Bengal Medical College and Hospital in Siliguri where they are still under treatment.
The police also conducted raids in the garden to round up Bhujel and the others.
Sandhya filed a complaint at Madarihat police station on Tuesday, naming Bhujel and nine others. In the evening, Bhujel was nabbed from Lankapara tea estate in the same block, the police said.
"We are taking stern steps to prevent such incidents. No illegal activity will be allowed in the district. Situation is under control in Garganda now. Our men are in search of some people," said Y. Raghuvamshi, the superintendent of police of Alipurduar.
This is not the first time that gang wars have broken out in a tea garden in the central Dooars.
In December 2018, Jetha Rai and Niranjan Chhetri had died in a gunfight in Lankapara following an altercation over sharing of money extorted from people.
Barun Lama and Dhiraj Lohar were hacked to death at Lankapara in February 2020. They were suspected to be associated with illegal sand mining and criminal activities.
In July last year, Rituraj Tamang alias Bekeybhai, a contractor based in Lankapara, was murdered in broad daylight in the garden. It was alleged that he was killed because of differences with another lobby of contractors.