Resignation a day keeps Suvendu pot boiling
The rebellious former member of the Mamata Banerjee cabinet will join the BJP, possibly at Amit Shah's Midnapore event on Saturday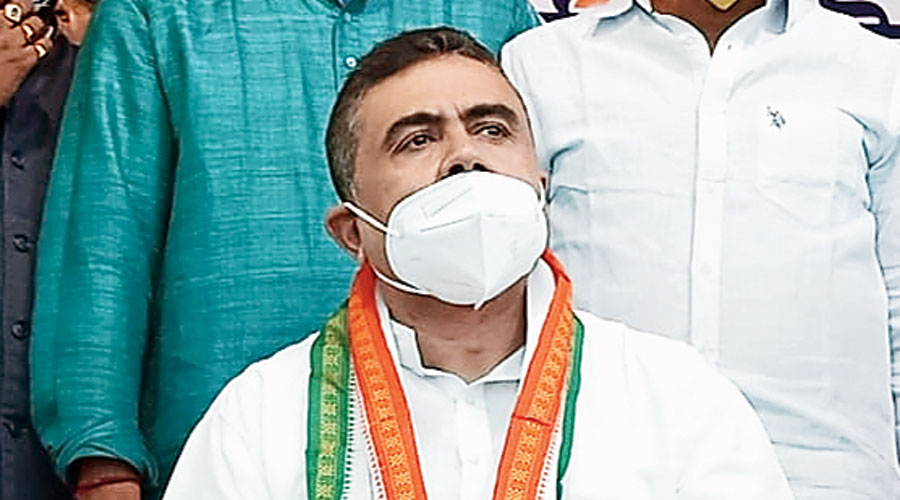 ---
|
Calcutta
|
Published 18.12.20, 01:55 AM
---
Suvendu Adhikari tendered his resignation from the Trinamul Congress on Thursday amid suggestions that he and his loyalists would join the BJP in the presence of Amit Shah in the state on Saturday.
The rebellious former member of the Mamata Banerjee cabinet wrote to her, thanking her for the "challenges and opportunities" afforded to him during his two-decade association with the party.
With the resignation, Adhikari also stepped down as general-secretary of the party and from its seven-member apex steering committee.
Adhikari's resignation from the party came a day after his resignation as Nandigram MLA and 20 days after he stepped down as minister.
Adhikari loyalist and Pandaveswar MLA Jitendra Tiwari also quit the party on Thursday.
A source close to Adhikari said the former minister was trying hard to engineer a slew of desertions. "Five MPs, 20-odd MLAs and hundreds of elected representatives from the panchayat and civic bodies are likely to leave in days. Hundreds of organisational office-bearers of the party will also leave with him," added the source, adding it was "just the tip of the iceberg".
Besides obvious names such as Trinamul's Burdwan East MP Sunil Kumar Mondal, at least 13 MLAs from East and West Midnapore, and five from North and South 24-Parganas would leave within days, the source added.
Through Thursday, resignations kept pouring in from various tiers of the party in the districts, as Adhikari loyalists felt emboldened to step forward.
Also, Adhikari would not go to Delhi this week, contrary to what was being said earlier. "He will first join the BJP, possibly at Amit Shah's Midnapore event on Saturday, and go to Delhi to meet the Prime Minister," said the source, adding that Adhikari's followers were arranging for 50,000 people from his home district East Midnapore alone for the the Shah event.
The Adhikari camp believes he holds sway in over 70 of Bengal's 294 Assembly seats. The BJP believes he can influence 40-odd seats and Mamata, according to sources close to her, not more than 20.
A Trinamul MP, until recently part of the party's talks with him, said Adhikari was trying to achieve an "exodus" allegedly at the BJP's behest.
"That is what this tediously long build-up was part of… Suvendu clearly has cunning advisors and is looking to generate the bandwagon effect," said the MP, referring to the psychological phenomenon in which people do something because others are doing it, irrespective of their own beliefs.
"A reason for this is the recent change in the BJP's stand, enforced by Shah, on Trinamul-deserters. Now they are willing to welcome anybody from Trinamul, other than Mamata Banerjee and her nephew," he added.
Adhikari attended an "apolitical" event in East Midnapore on Thursday, shortly before scoffing at Speaker Biman Banerjee's decision against accepting or rejecting his resignation from the Assembly on technical grounds.
The BJP is visibly jubilant at the turn of events but guarded in its formal response.
"With these developments, it does appear that Suvendu Adhikari might join the BJP," said the party's state unit chief and Midnapore MP Dilip Ghosh. "Though there's still time till Saturday and we can't confirm unless he says something, it does look like that he'll join us in the presence of Amit Shah. Anyone who wants to bring true change in Bengal is welcome in the BJP," he added in a marked departure from his stand of sidelining newcomers.
On record, Trinamul tried putting up a brave face. "Trinamul Congress is a very big party. Its fate is not determined by a handful of people…. Suvendu or some others leaving could be a big deal for the media, but it does not matter to the party, its workers and its supporters," said Subrata Mukherjee, minister and party vice-president.