Reliance Jute Mill shut, workers ransack two trade union offices
The indefinite ceasework rendered 5,000 employees jobless barely six months after the plant opened before Durga Puja following its closure in January 2020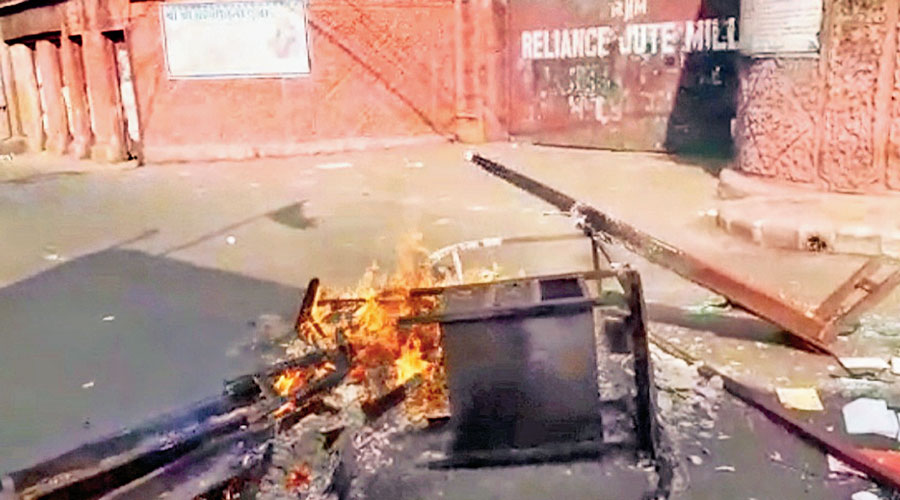 Furniture of a trade union office set on fire near Reliance Jute mill in Bhatpara on Sunday.
Tapas Karmakar
---
Bhatpara
|
Published 26.04.21, 01:40 AM
|
---
Groups of labourers attached to the Bhatpara-based Reliance Jute mill allegedly ransacked two trade union offices, affiliated to the INTTUC and the BMS, after the mill authorities issued an indefinite ceasework order on Sunday morning.
The Reliance Jute Mill — no relation to the Ambanis — is one of the oldest jute mills in the country, founded in 1906. It is known as a pioneer of production and marketing of quality decorative fabrics and jute yarns suited for export.
The indefinite ceasework rendered 5,000 workers jobless barely six months after it opened before Durga Puja following its closure in January 2020 owing to workers demanding gratuity and retirement benefits for at least 165 mill retirees.
Mill authorities this time did not specifically cite a reason for the ceasework. Insiders attributed the closure to low production in the wake of a hike in raw material price.
Workers blamed mill authorities and also the leaders of the Trinamul and BJP-affiliated unions for "playing with their lives" and causing a "survival crisis".
Angry workers allegedly ransacked the union offices and damaged furniture. They lot a bonfire of the furniture too outside the premises of the union office cluster. They tried to enter the mill, but were prevented by security personnel who kept the gates closed. A fire tender doused the blaze.
Thwarted protesters later blocked the Kanchrapara-Barrackpore road for about an hour, demanding intervention from the administration in reopening the mill. The blockade was withdrawn only after the police assured protesters of taking up the matter with the administration.
Rakesh Shaw, a mill worker, said he found the behaviour of mill authorities inexplicable. "They did not specifically give a reason for the closure. They refused to talk to workers. The management has been running the mill according to their whims."
Accusing trade unions of inaction, Shaw added: "We have six unions attached to this mill. But none appear to be bothered about the plight of workers. They use us to get votes."
Senior company officials  refused to speak despite repeated calls, claiming to be busy in meetings.
An official on the condition of anonymity said: "Production was hampered because of a spike in the price of raw materials as well as agitation by a section of workers these last two weeks. Lack of maintenance hampered production and caused technical snags. We decided to stop work till normality is restored."