'Reassuring' meeting of JU chancellor and VC
At the hospital, Dhankhar had enquired from doctors about Das's health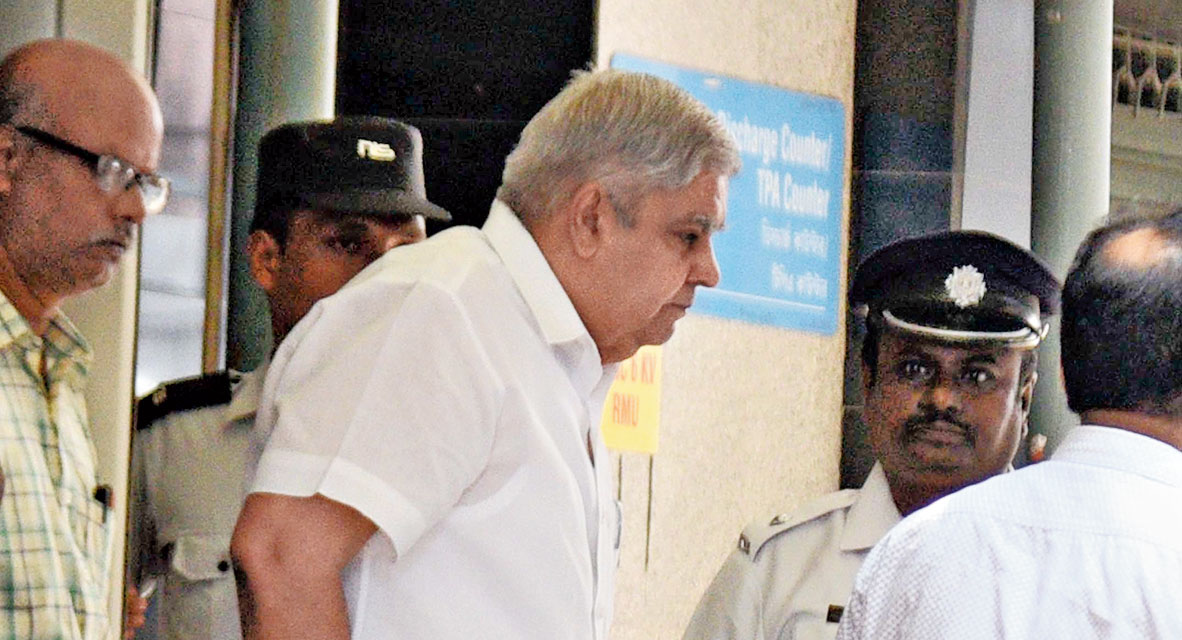 Governor Jagdeep Dhankhar outside AMRI, Dhakuria, on Saturday.
Picture by Gautam Bose
---
Calcutta
|
Published 21.09.19, 08:43 PM
|
---
Jadavpur University chancellor Jagdeep Dhankhar told vice-chancellor Suranjan Das on Saturday the academic had his "full support" and that they would "work together to restore normalcy" at the university.
Dhankhar, the Bengal governor, had gone to see the vice-chancellor and his deputy at AMRI Hospitals in Dhakuria in the morning.
According to one source, the chancellor told Das: "You are doing very well. You have my full support and we will work together to restore normalcy in Jadavpur University."
After the chancellor had left, Das told The Telegraph: "I am happy and reassured. We (at JU) look forward to receiving cooperation and guidance from him."
The Raj Bhavan said in a statement: "The VC indicated that he looks forward to the support of the chancellor in restoring normalcy in the university."
As "a guardian", the chancellor "will engage in all-out effort to interact with the students, faculty and the management, so that the university is put in the growth trajectory".
It added: "The chancellor greatly appreciated the stand of the VC that he will organise an interaction with the faculty members in the near future and the chancellor looks forward to such an interaction with optimism."
VC Das and pro-VC Pradip Kumar Ghosh had been hospitalised on Thursday evening with aggravated hypertension during the height of the student protest against Union minister Babul Supriyo. Das and Ghosh were discharged from the hospital on Saturday evening.
At the hospital, Dhankhar had enquired from doctors about Das's health. When the governor entered Das's cabin, doctors were examining him.
Bengal education minister Partha Chatterjee too visited the JU officials. "You have gone through his statements released on Thursday, Friday and Saturday. It is up to you to realise what the chancellor is trying to say," Chatterjee said
The governor's statements on Thursday and Friday had created an impression that he was criticising the VC and the state administration for not letting the police resolve the campus standoff.
On Saturday, Das reminded the chancellor that it was the teachers and university staff, not the police, who had persuaded the students to lift the blockade and allow the governor's car to leave the university, a source said.
The source said Das told the governor that although the programme the minister attended had not been organised by the university, "we had allowed it to take place and arranged for security".
After minister Supriyo came out, there was an agitation again. The VC requested him to leave through another gate, but the minister refused and insisted on leaving through the gate where the agitators were, the source quoted Das as telling the chancellor.