Push for rural polls in hills
DMs asked to start preparations for delimitation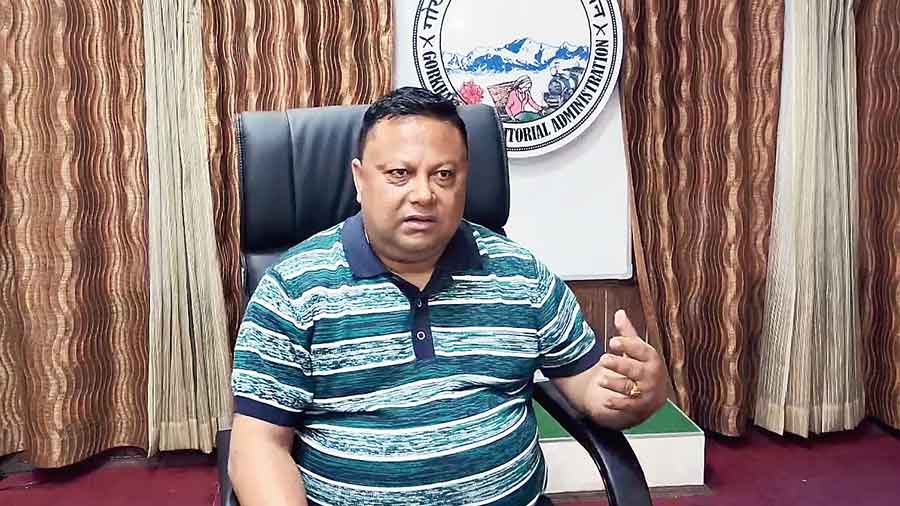 Anit Thapa in his office in Darjeeling on Monday.
File photo
---
Darjeeling
|
Published 30.08.22, 01:34 AM
|
---
The State Election Commission on Monday directed the district magistrates of Darjeeling and Kalimpong to start preparatory works to delimit gram panchayat and panchayat samiti constituencies in the Gorkhaland Territorial Administration (GTA) area where rural polls had not been held for 22 years.
The directive from the commission in effect kick-started the process of holding the rural polls in the hills and comes after the Bengal government submitted a proposal for the same to the panel on August 26. On the same day, GTA chief executive Anit Thapa had written to chief minister Mamata Banerjee for the delimitation of the gram panchayat and panchayat samiti seats in the hills.
Apart from the delimitation, the district magistrates have also been asked to start preparatory works for "allocation and assignment of serial numbers of seats for the gram panchayat & panchayat samitis in Darjeeling and Kalimpong districts within Gorkhaland Territorial Administration (GTA) area…" and subsequently, reservations of seats for Scheduled Castes, Scheduled Tribes, Other Backward Classes and women.
Rural polls in Bengal are likely to be held at February end. At the moment, there are 112 gram panchayats within the GTA area.Each panchayat can have members ranging from five to 30 depending on the population.Most political parties in the hills have welcomed the decision to start the process of holding rural polls after almost two decades. They include the Bharatiya Gorkha Prajatantrik Morcha (BGPM) of Anit Thapa, Hamro Party of Ajoy Edwards and the BJP.Unlike in the rest of the state, the Darjeeling hills have provisions only for a two-tier panchayat system consisting of gram panchayats and panchayat samitis.
There is no provision for the third-tier zilla parishad in the hills. This is because the Indian Constitution was amended in 1992 at the behest of Subash Ghisingh, who was then the chairman of the now defunct Darjeeling Gorkha Hill Council (DGHC).Ghisingh was of the opinion that powers of the panchayat samiti and zilla parishad would overlap with those and functions of the DGHC and its elected councillors.
Many believe this is one of the reasons that Ghisingh did not agree even to the two-tier rural polls, as a result of which elections to only gram panchayats were held in 2000.The GTA which replaced the DGHC in 2012, however, has provisions for a three-tier panchayat in the hills. But for that, the Constitution has to be amended.Apart from political parties, farmers' organisations like the Kalimpong Krishak Kalyan Sanghathan (KKKS) had also been demanding rural polls.