Puja Gallery@ Saltlake
Actor Prosenjit Chatterjee inaugurates the BK Block puja on Panchami. "Durga puja is a festival for which we take a break from our busy schedules and enjoy to the fullest," said Prosenjit, as the crowd repeatedly chanted his nickname "Bumbada". He later posed for photographs with fans. (Saradindu Chaudhury)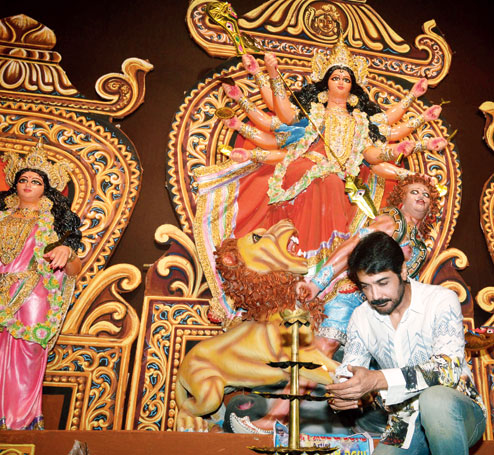 ---
---
Actor Prosenjit Chatterjee inaugurates the BK Block puja on Panchami. "Durga puja is a festival for which we take a break from our busy schedules and enjoy to the fullest," said Prosenjit, as the crowd repeatedly chanted his nickname "Bumbada". He later posed for photographs with fans. (Saradindu Chaudhury)
Governor Keshari Nath Tripathi offers floral tribute to the goddess after inaugurating the EC Block puja on Panchami. The EC Block pandal resembled the golden temple of Sripuram near Vellore and the idols, adorned in golden finish, were dark. Tripathi also visited the pujas at BJ Block and AK Block that day. Picture by Saradindu Chaudhury
Calcutta Police commissioner Surajit Kar Purakayastha and actress Sohini Sengupta inaugurate the BB Block puja on Chaturthi. "My husband hails from the neighbouring BC Block so my wedding took place in this very community hall in 2013," said Sohini, now a resident of HB Block. Kar Purakayastha too stayed in BB Block in the 70s and was happy to visit his old neighbourhood. Residents were excited with their chief guests and some like Arundhuti Roy took selfies with Sohini. "Sohini was great in Belaseshe and Alik Shukh," said Arundhuti, a Techno India student who also visited BC Block, where Sohini inaugurated her next pandal. Pictures by Prithwish Karforma
Residents of DL Block brought out a prabhat pheri in their lanes on Mahalaya. (Prithwish Karforma)
Brahmachari Mural Bhai of Dakshineshwar Ramakrishna Sangha Adyapeath at AC Block's puja on Panchami. (Shubham Paul)
Residents of FE Block picked up dandiya sticks and danced together outside their pandal on Sashthi. A professional troupe had been invited to sing and dance but residents joined them whole-heartedly. At BJ Block, organisers had promised bhavai dancers from Gujarat before the Pujas.
But it was a dance troupe from Gariahat that finally made it to the stage. "We're from Nritya group in Gariahat," smiled Megha Mondal, in between dancing with her colleagues to Dholi taro dhol baje and several Falguni Pathak hits. "We're dancing to songs with a flavour of Gujarat in them." Some dancers juggled with fire and others danced with fire-lit pots balanced on their heads. Guests didn't seem to mind. "I've heard that bhavai dancers even perform on shards of broken glass. Though it would have been a new experience to watch them in action today, these dancers are good too," said Dum Dum's Sucharita Basu, stealing a glance at the show before entering the pandal. Pictures by Shubham Paul
Amidst all the song, dance and recitation programmes, AL Block staged a rhythmic yoga performance on Saptami. Fifteen-year-old Avibrata Dutta performed 25 asanas as Indranil Sen's rendition of the Rabindrasangeet Anandaloke Mongolaloke played in the background. The asanas ranged from simple to complex, including those like Chakrasana and Dhanurasana. Every time the Class X student of Sri Aurobindo Institute of Education performed a difficult pose like bending his legs to reach behind his neck, the audience broke into applause.
"I've been learning yoga from my father who is a doctor," said Avibrata. "Right from the age of seven, I've been practising for 15 to 30 minutes daily. The music was to enliven the show."
Text: Aniket Sil
Picture: Shubham Paul