Protest at IOC plant disrupts LPG supply
The plant supplies over 50,000 LPG cylinders to districts including West and East Burdwan, Bankura, Purulia, Murshidabad, Birbhum and Hooghly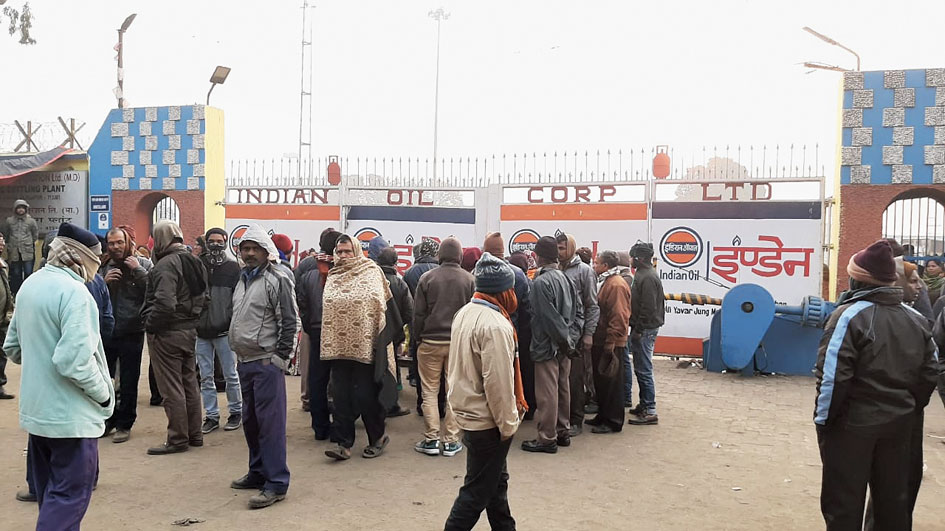 ---
|
Durgapur
|
Published 01.01.20, 09:21 PM
---
The supply of cooking gas cylinders from the Indian Oil Corporation plant in Durgapur town to seven south Bengal districts was disrupted on Wednesday after 34 former security guards and their families locked the gate and demonstrated against the company's decision not to reemploy them from January 1.
IOC sources in Durgapur said the company had taken the decision to employ a new contractor who sourced their staff wholly from ex-servicemen.
The plant supplies over 50,000 LPG cylinders to districts including West and East Burdwan, Bankura, Purulia, Murshidabad, Birbhum and Hooghly.
On Wednesday morning, around 30 old-time workers at the plant — many of whom sources said were used to being absorbed yearly by new contracting agencies — shuttered the plant gates and sat in protest at the decision to ask them to leave on December 31. Several of their family members joined them.
The agitators refused to allow employees, as well as the staff of the new contractor, to enter the plant, with sources saying many of the new employees were forcibly turned away.
"We have been here for over 30 years and all of a sudden the plant wants us to hand in our gate passes and leave the next day. What will happen to our families?" asked a protester.
IOC sources said, however, that they had given enough time to the old contractor and had asked them to inform employees about turning in their gate passes well in advance.
As of Wednesday evening, loading and unloading operations — which are crucial to the supply chain — had not been resumed at Durgapur, with sources saying protesters were continuing to block the plant gates.
"On Wednesday, we were unable to supply cylinders to our dealers, and if this agitation continues, there will surely be a crisis," said a plant official, adding they had contacted the district administration for help.