A Birbhum panchayat on Wednesday helped out Bhadu folk singers, whose earnings have virtually stopped amid the Covid pandemic, by hosting a contest for them and giving all participants money ahead of Durga Puja.
Bhadu singers, who roam and sing songs carrying a clay idol of Bhadu, a much-loved princess who cared for farmers and labourers, are a familiar sight in Birbhum, East and West Burdwan, Purulia and Bankura, in the Bengali month of Bhadro, but the pandemic has left them in dire straits.
On Wednesday, Ruppur gram panchayat near Bolpur in Birbhum gave 20 Bhadu troupes from the district an arena to stage their seasonal performances, two full meals and Rs 800 to every participant in what villagers termed the "spirit of the Puja season".
"We came forward to organise such a fest for the first time as we thought to help the folk singers," said Ranendranath Sarkar, the deputy chief of the gram panchayat.
"This Puja is going to be different for sure. The onus is on us to help out the needy," said another gram panchayat member in Ruppur.
Sarkar added: "We have organised assistance in the form of a fun competition and kept prizes for the winners. But we are also providing financial assistance of Rs 800 each to all participants as this year they could not perform their regular events in order to earn money."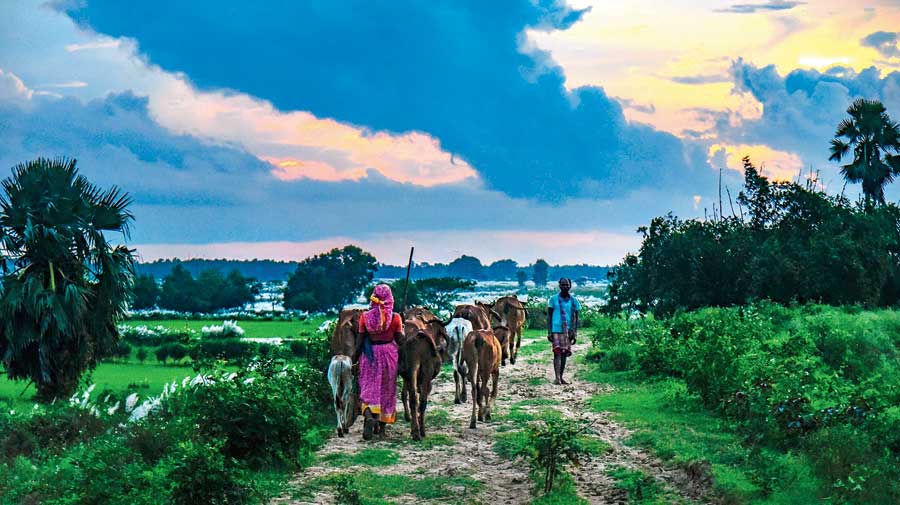 A woman returns home with her cattle at Rajatpur in Birbhum on Wednesday. Indrajit Roy
Artisans were also offered breakfast and lunch by the panchayat early on Wednesday.
Bhadu is a recognised folk tradition in south Bengal. Roaming bands of folk singers perform across villages, the songs being entreaties to a female clay idol representing Bhadu or princess Bhadravati.
According to folk researcher and writer Aditya Mukherjee, the tradition started in Bengal in the 16th century following the death of princess Bhadravati of Purulia.
"It is known that there was a princess from Purulia, Bhadravati, who was very sympathetic to poor farmers and labourers and helped them in crises. She was very popular among poor villagers. After she died young, her followers wrote songs requesting her not to leave them," Mukherjee said.
"The tradition started and spread to different Bengal districts. The folk singers roam in villages and collect money and rice by performing Bhadu songs," he added.
Amar Das, 58, a Bhadu singer who has been performing for the past 35 years, said that the initiative by the panchayat "made them happy" as it gave them "a venue to perform" their "beloved craft".
"Yes, we need money but we also need space in order to stage a good performance. We visited two or three villages but villagers did not come to listen to our songs for fear of the coronavirus. So, our performances took a hit. We are very grateful for this panchayat's initiative," said Das, a resident of Lohagarh village.
Many performers said that they would donate the money they received from the panchayat to help poorer people in their neighbourhoods buy clothes for their children this Durga Puja.
"Many in our villages are worse-off than us. With this money, they can buy something for the children before the festival," said Khudiram Dhatri of Padmabatipur village in Bolpur.