Plan for Suvendu Adhikari's counter rally at Contai
Ground refused to BJP was the same where Abhishek Banerjee conducted rally on Saturday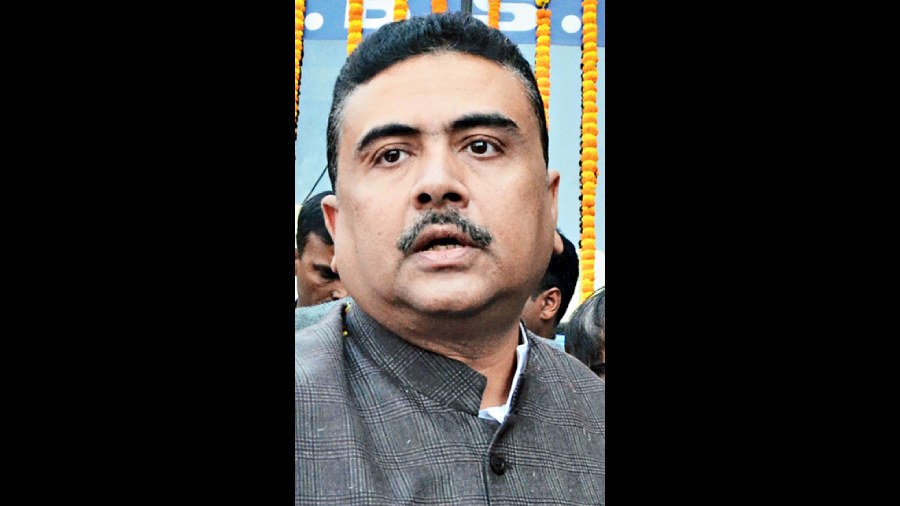 Suvendu Adhikari
File picture
---
Calcutta/Tamluk
|
Published 06.12.22, 05:18 AM
|
---
The BJP is planning to hold a public meeting to be addressed by the leader of the Opposition, Suvendu Adhikari, on December 21 at a college ground in Contai, where Trinamul Congress MP Abhishek Banerjee conducted a rally on Saturday.
However, the college authorities have informed the BJP that the ground will be unavailable from December 11 to 24. "We had made an application to the college authorities to allow us to hold a meeting there on December 21. They have cited certain reasons and said the venue will be unavailable," said Shudam Pandit, BJP's Contai organisational district president.
"This is actually a political conspiracy. Trinamul has forced the college to reject our appeal," Pandit said, adding the BJP would make another appeal to the principal of the college.
Sources in the BJP said the party might need to come to a compromise with the administration and the college authorities to organise the rally. The BJP will either have to give up on the date and hold the rally at the same venue after December 24, or they will have to change the venue.
Pandit said he would speak to the state leadership about the further course of action. 
The college ground is a stone's throw away from the residence of Adhikari. On Saturday, Banerjee had launched a no-holds-barred attack on Adhikari at the rally.
Adhikari's rally has been planned as a counter to Banerjee's public meeting, which saw a turnout of around 25,000 people. On the same day, Adhikari addressed a rally in Banerjee's constituency Diamond Harbour. 
For the proposed rally on December 21, the BJP has set a target of around 40,000 to 50,000 people, sources said.
"The people who attended the Trinamul rally on Saturday were mostly brought in from districts like West Midnapore, Jhargram, and West Burdwan. Abhishek Banerjee said a bunch of lies in front of these people. Suvenduda will negate the wrong information he had spread," Pandit said.
In case the administration refuses to allow the rally, the BJP will move court, sources in the party said.
Clash in Bhupatinagar
Workers of the Trinamul Congress and the BJP on Monday clashed near the site of an explosion at Bhupatinagar in East Midnapore. The clash broke out when BJP workers followed members of the bomb squad to the site where a blast had killed three men on Friday night.