Pink ball drives Test craze at Eden
There were around 100 people in front of the online ticket collection counters at 4pm on Tuesday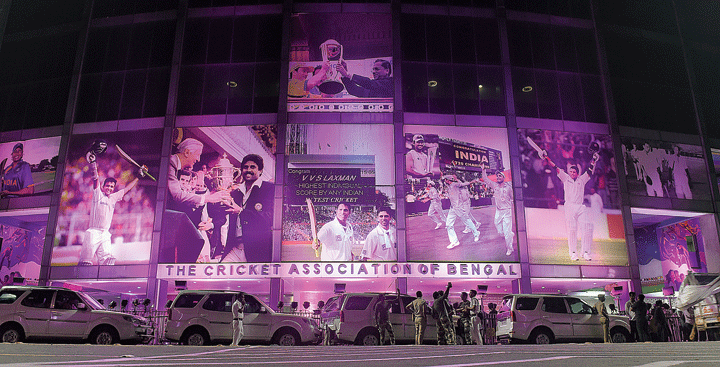 ---
|
Calcutta
|
Published 19.11.19, 08:36 PM
---
The buzz is back under the iconic banyan tree at the Eden Gardens.
There were around 100 people in front of the online ticket collection counters at 4pm on Tuesday, three days before India's first pink ball day-night Test.
Twenty metres away, the courtyard outside the administrative block, right under the giant façade, had a few hundred more. Packed in the lot were CAB officials, representatives of Maidan clubs, cops, current and former players — everyone was moving around with a sense of purpose.
Discussions in small huddles touched a range of topics — from how distribution of tickets to Maidan clubs could have been handled better to the probable first eleven for Team India.
Sukdev Das had come all the way from Midnapore town to collect tickets he had purchased online. "This is going to be more than a Test. I did not want to miss being part of history," said Das, who teaches political science at KD College of Commerce and General Studies. He was accompanied by wife Lili and two children.
The family had got off a train in Howrah and took a launch to Babughat to reach the stadium. It took them a little over four hours. On match days, the family will have to leave home at 8am and will not get back before midnight.
Das had bought tickets of the first, third and fourth days for all four members in the family. "The first day is going to be special. I don't think the Test will go into the fifth day," said Das, who used to be a wicket-keeper in Vidyasagar University's cricket team during his student days.
Das's six-year-old son Sohag was glued to a colourful wall to the right of the Club House entrance. The wall had been painted in bright red, yellow and green. Young artists with brush and paints were giving final touches to a series of pictures of a left-handed batsman gearing up for a shot.
Maidan veterans said the craze for the Eden Test is something no longer associated with the five-day format.
Dipen Rudra, 65, the cricket secretary of a CAB-affiliated second-division club, has been finding it difficult to entertain requests for tickets.
"There is something for everybody in this Test. The pink ball and floodlights will lend an IPL-like glamour quotient to the match and attract a set of spectators. The more discerning cricket lover will be keen to see how the pink ball behaves under the lights," said Rudra.
Eden veterans remembered two Tests in recent past that generated a huge interest. The India-Pakistan Test in February 1999 — where consecutive yorkers from a young Shoaib Akhtar rattled the stumps of Rahul Dravid and Sachin Tendulkar — and Tendulkar's last Eden Test against West Indies in November 2013.
Biman Dutta, who works with a private bank, had sneaked out for a couple of hours to collect tickets for himself and wife Paulami. The couple had tickets for the second and third days. Dutta was clad in a pink shirt and said he would wear it on match days as well.
For Paulami, the pull was not pink ball or floodlight. "I am a die-hard Dada fan. This is going to be a big test for him also. I will be there to root for his success as organiser," said Paulami.