Otter found in Cooch Behar bites off forester's finger
Sources have said the otter is marked as a vulnerable species in the IUCN Red Data Book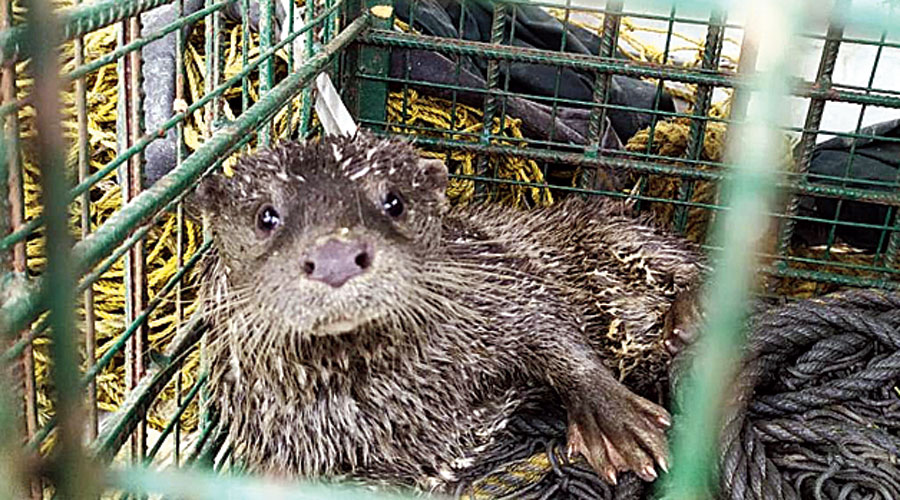 ---
---
A rarely sighted Asian small-clawed otter was found in a pond at Patlakhawa village in Cooch Behar on Saturday evening and bit a finger of a forest range officer who had come to cage the animal.
A portion of Sandip Das's middle finger on the left hand was amputated at a private nursing home in Cooch Behar on Sunday.
Sources have said the otter is marked as a vulnerable species in the IUCN Red Data Book (an international list mentioning population status of animal species).
When the animal was spotted in a pond at Patlakhawa by some local people, they informed the forest department.
A team from the Chilapata forest range of Jaldapara wildlife division led by range officer Sandip Das soon arrived to rescue the animal.
"Otters are hardly sighted in the region. There is no record that an otter has been rescued in the division. We suspect because of rise in water levels of rivers during the monsoon, it had flowed in the Torsha and then somehow reached the village pond," said Kumar Vimal, the divisional forest officer of Jaldapara wildlife division.
Many rivers and rivulets were overflowing because of incessant rain in north Bengal recently.
The foresters managed to steer the animal into the cage laid beside the pond. Then, they cast a net in the cage and Das put his left hand on one of the rails.
"The animal suddenly turned aggressive and gave a bite to the middle finger of the range officer's left hand," a forester said.
Das was rushed to a private nursing home in Cooch Behar. "The otter looked small but was ferocious. The range officer's injury was serious and a portion of the finger had to be amputated to stem the spread of the infection," Vimal said.
The otter was released into the Torsha by the foresters.