Order to secure air assets in the east
India's first mountain strike corps would soon move base to Panagarh in Burdwan from Ranchi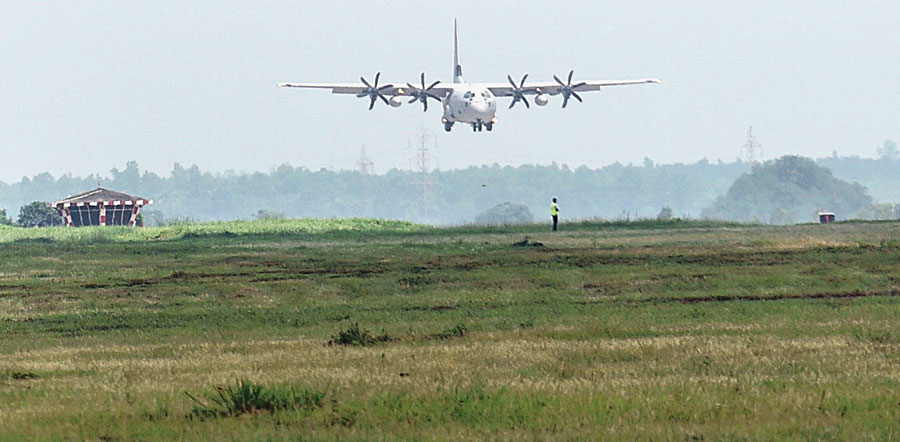 ---
|
Calcutta
|
Published 27.02.19, 10:04 PM
---
The Eastern Air Command has asked officers to secure its air assets across the region.
The message has gone out to air officers commanding (AOCs) across the squadrons posted in Kalaikunda, Hashimara, Barrackpore and Bagdogra air bases in Bengal and also air bases in Tezpur, Chauba and Jorhat in Assam, sources at the air headquarters in Shillong said.
Within hours of this move on Wednesday, Lt Gen M.M. Naravane, the GoC-in-C, Eastern Command, visited the Panagarh military station to check on preparations ahead of the arrival of the Brahmastra Corps from Ranchi.
India's first mountain strike corps would soon move base to Panagarh in Burdwan from Ranchi. The Brahmastra Corps was raised to defend the northern borders and has high altitude special forces, senior army officers said.
The presence of an air base in Panagarh, about 140km from Calcutta, makes it easier to mobilise troops from there.
Panagarh has Indian Air Force (IAF)'s C-130J strategic lift aircraft, which can reach locations along the LoC within an hour and land on high-altitude advanced landing grounds.
Besides the MiGs, the command has a whole range of fighter jets, including the Sukhoi SU series and indigenous missile systems.
The Eastern Air Command has over 15 squadrons under its wings with two operational training units in Tezpur and a tactical aircraft squadron in Panagarh in the form of Squadron 87.
"Besides operational readiness, specific thrust is being laid on securing air defence systems. The defence security corps (whose primary task is to secure air bases) has been adequately briefed," said a commanding officer of an air base in Assam.
Some of the air bases, sources said, often bring in the Airborne Early Warning and Control System Aircraft (AEW&C) for display and training and help fighter pilots understand how to carry out airborne surveillance. Besides, there are runways, air traffic control stations, command and control centres, fuel storages, bomb dumps, missile sheds, hi-tech laboratories and specialist vehicles that need to be guarded.
"Since the 2016 Pathankot attack, there are certain SOPs (standard operating procedures) in place on how to secure air-bases. We can't share the details. But Garud commandos are aware of their tasks," said an air force officer from the eastern air headquarters.
Lt Gen Naravane was received by Lt Gen P.N. Rao, general officer commanding of the Brahmastra Corps, at Panagarh.
"Needless to say the Panagarh visit is significant," a senior officer said when asked about the GOC-in-C's day trip from Calcutta.