Opposition voice for the first time at hill House
They raised issues like financial transparency; and the need to disburse cash to tea garden workers, instead of the construction of a Shramik Bhavan in Siliguri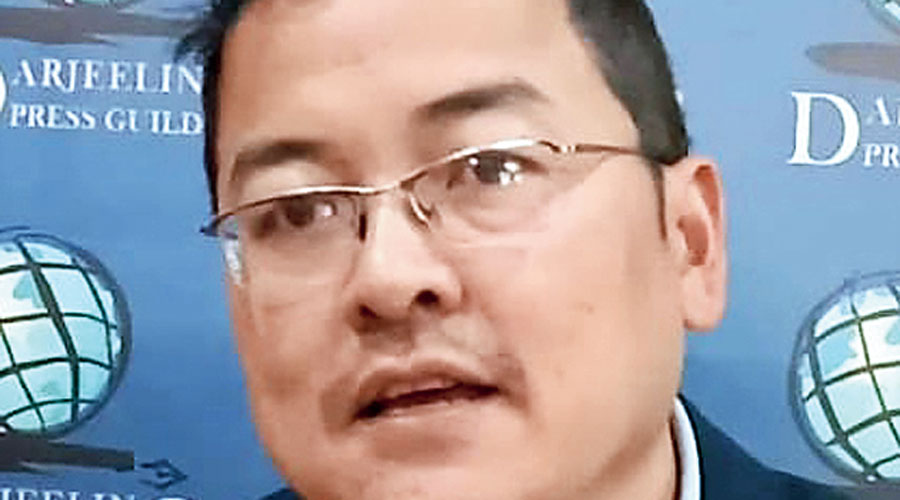 ---
Darjeeling
|
Published 20.09.22, 01:33 AM
|
---
For the first time in 34 years, a strong Opposition voice was heard in Darjeeling's corridor of power.During the first GTA Sabha meeting held at Gorkha Rangamanch Bhavan in Darjeeling on Monday , 11 members opposed to the ruling Bharatiya Gorkha Prajatantrik Morcha (BGPM) discussed and expressed their opinions on 55 agendas placed at the session.
"We raised our voices on most matters. This is the rule of the people, janta raj," said Ajoy Edwards, the president of the Hamro Party that led the Opposition group.
The Hamro Party is the second largest party in the GTA Sabha with eight elected members. The Sabha consists of 45 elected members and five nominees of the Bengal government.An autonomous body called the Darjeeling Gorkha Hill Council (DGHC) had been set up in 1988. It was replaced by the Gorkhaland Territorial Administration (GTA) in 2012.
"The DGHC hardly had any opposition members. A few independent candidates who used to win would ultimately join the Gorkha National Liberation Front (GNLF) that ruled the hills from 1988 to 2008," recalled an old timer.
The GTA was no different.Bimal Gurung's Gorkha Janmukti Morcha had won all 45 seats in the 2012 elections. "Binay Tamang (Daju) was recalling that there would be little discussions at the first GTA Sabha," said Edwards with Tamang by his side. From 2007 till 2017, Tamang had been with the Morcha led by Gurung..On Monday, opposition leaders were all guns blazing at the meeting.
"The annual accounts of the GTA were placed at the House. However, we were not given a copy of the accounts…. In future, we hope that the GTA Sabha will issue such documents for the members to go through," said Ruben Das Pradhan, a Sabha member of the Hamro Party.
Some of the issues raised by the Opposition at the meeting were financial transparency; and the need to disburse cash to tea garden workers, instead of the construction of a Shramik Bhavan in Siliguri, and make provisions for an Opposition leader.
"We did also support certain agendas like the need to transfer all departments to the GTA as promised by the state government," said Edwards.A BGPM member at the GTA Sabha admitted that the opposition had come well prepared. "They seemed to have divided the issues amongst them as each member was speaking on a specific subject," said a BGPM Sabha member. Many in the hills say the presence of a strong opposition in the GTA Sabha is most welcome.