One dead and Three injured as liquid steel spills at DSP
The incident occurred around 11am at the permanent way engineering (PWE) department of the plant's blast furnace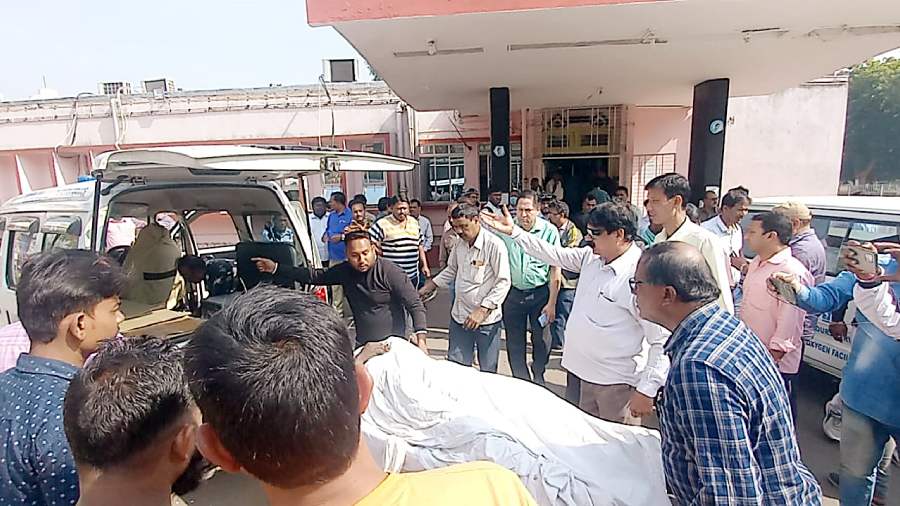 An injured worker of Durgapur Steel Plant being taken to hospital.
Picture by Dipika Sarkar
---
Durgapur
|
Published 21.11.22, 04:45 AM
|
---
A contractual worker was killed and three others were injured when molten steel spilled out of a ladle at the Durgapur Steel Plant of the Steel Authority of India Limited (SAIL) on Sunday morning.
Sources at the plant in Durgapur town said the deceased, Poltu Bauri, 30, got buried under liquid steel and died instantly. Three others tried to escape but suffered severe burns on coming into contact with molten steel.
Injured workers Prashanta Banerjee, Gopi Ram and Prashanta Ghosh were rushed to Durgapur Steel Plant hospital and later transferred to a private super speciality hospital in the town.
The incident occurred around 11am at the permanent way engineering (PWE) department of the plant's blast furnace. Sources said liquid steel was being drawn in by a ladle mechanically from the blast furnace to the slag pusher line when it overturned owing to a technical glitch.
"These four contractual workers were working under the ladle at PWE," said a source.
Sources said that Poltu Bauri's body could not be removed till afternoon as it was buried under hot slag. Firefighters worked for hours to retrieve the charred body for a post-mortem.
Of the three injured, Banerjee and Ram suffered more than 70 per cent burns and were critical, their doctors said.
Steel plant authorities in the evening described the incident as "unfortunate" and constituted an inquiry team to investigate the cause of the accident.
All trade unions of the DSP jointly demanded proper inquiry and compensation to victims' family members under the norms of SAIL. "The steel plant authorities should carry out a proper inquiry into the incident and take necessary actions as such incidents are recurring," said Snehasish Ghosh, assistant general secretary of the INTTUC-backed union at the DSP.