On Arjun Singh's turf, posters decry entry of turncoats
A source in Trinamul said unlike several veterans, Abhishek in principle was opposed to taking back leaders who had left for the BJP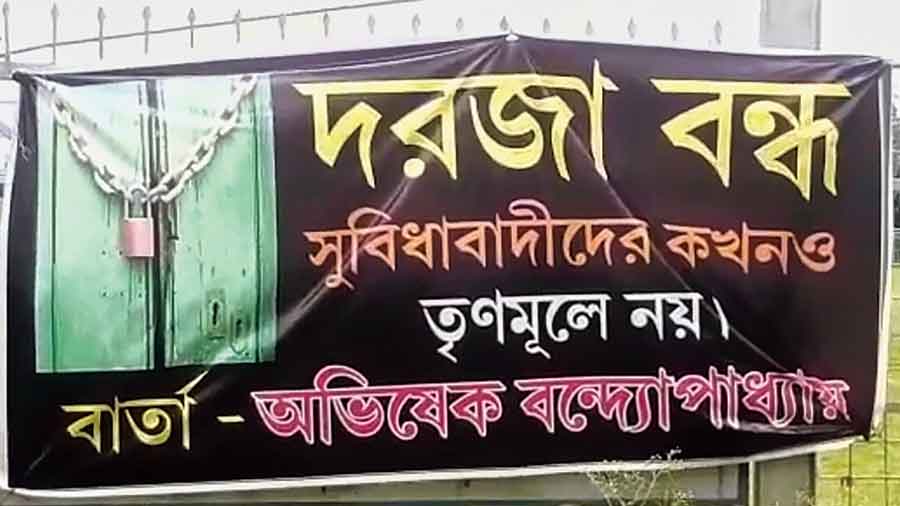 Posters with Abhishek Banerjee's remark on turncoats at Jagaddal in North 24-Parganas on Tuesday.
Ankit Mukherjee
---
Calcutta
|
Published 01.06.22, 03:34 AM
|
---
Anonymous posters with quotes of Trinamul national general secretary Abhishek Banerjee — that the party shut doors on turncoats seeking re-entry — on Tuesday appeared across Bhatpara-Jagaddal in North 24-Parganas, the turf of Barrackpore MP Arjun Singh.
On Monday, Abhishek said at a rally in Shyamnagar: "Many traitors, do numberi (frauds), Mir Jafars (referring to army commander of the nawab of Bengal Siraj-ud-Daulah, who betrayed the latter) are waiting in queue. I am telling you the door is closed for them."
A Trinamul source said unlike some veterans, Abhishek was in principle opposed to taking back those who had left for the BJP. His remarks on Monday — which people at the rally endorsed, in Singh's presence — was his way of sending a message, the source added. Singh recently returned to Trinamul.
Trinamul sources in Barrackpore said Singh was "upset" with the posters. A few posters also referred to Abhishek, saying assault on party old-timers wouldn't be tolerated, which Trinamul sources said were a bid to remind Singh of attacks on Trinamul workers during his BJP stint, especially after the 2019 Lok Sabha polls.
After Singh won the Barrackpore Lok Sabha seat as a BJP candidate in 2019, violence broke out in the zone and resulted in the death of at least eight persons. Chief minister Mamata Banerjee visited the belt to restore peace. Trinamul had then accused Singh of masterminding the attacks on Trinamul workers.
Speaking to reporters on Tuesday, Trinamul's Jagaddal MLA Somnath Shyam said: "I don't know who put up the posters. But it is true that Trinamul supporters in the area won't like to see people in the party who even during the recent civic poll attacked and hurled bombs at them."
Shyam, who is not known to be on good terms with Singh, added: "Our supporters were euphoric on Monday when Abhishek said turncoats won't be taken back. They celebrated the announcement at night and it could be that they came up with the posters. This is like a naya jagaran (new awakening)."
However, Shyam was quick to point out that the posters did not intend to target Singh and the MLA was bound by the party's decision on the MP's re-entry to Trinamul.
Though he did not mention Singh's alleged role in the 2019 post-poll violence, Shyam said: "People have immense anger.…they can't forget the torture."
Asked, Singh said: "I don't know who slapped the posters.... the local MLA may know about it. I told Trinamul about the development. I also sent a list of BJP leaders willing to join Trinamul."