Officials visit villages to know about and address woes
DMs on outreach drive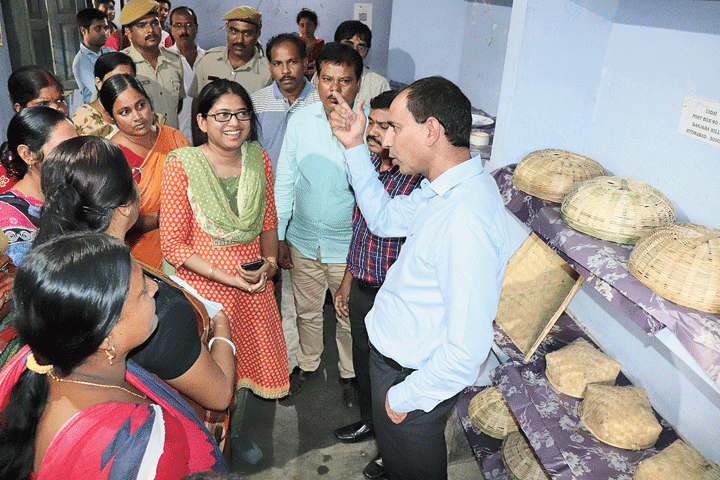 ---
Burdwan
|
Published 17.11.19, 10:05 PM
|
---
District magistrates and other officials have been extensively touring rural areas in Bengal to know about and address the problems of the masses, an exercise launched in June at the directive of chief minister Mamata Banerjee following the general election results.
Several sources in the Trinamul Congress said the administrative drive had been conceived by Mamata herself. It has been going on alongside Didi Ke Bolo, a similar initiative for people to take up their grievances with officials.
The grievance cell was the idea of poll strategist Prashant Kishor who was brought in by Mamata to turn around Trinamul's fortune.
"Even before Didi Ke Bolo, she had advised district magistrates in June to conduct outreach efforts to find out what had gone wrong for such a shocking performance by the party in the general election," said a Trinamul source in Calcutta.
Nearly six months on, administrative sources said the initiative was paying off.
"In a lot of districts, people have lost trust in Trinamul leaders and blame them for many problems. That is why Trinamul lost ground," said a district source.
"However, people are still willing to trust appointed officers like district magistrates. A lot of people are not willing to talk to Trinamul leaders about misgivings like corruption," the source added.
According to the sources, the district magistrates have been given free hand in deciding how they want to interact with the people.
"We are just monitoring their activities, not giving them instructions regularly," said a government source.
In Purulia, district magistrate Rahul Majumdar has been spending a night in a block town during the weekend and interacting closely with residents.
"I spend a night per weekend in a block town and hold meetings. For example, I will go to a remote village in Purulia and ask people what their problems are. After I started doing this, the number of complaints from the people has reduced. We are directing our officials to go to the site of the problems," said Majumdar, who even started learning Santhali language to communicate better with the people.
Purulia is a district where Trinamul lost its base in last year's panchayat polls. Jyotirmoy Singh Mahato of the BJP won the Purulia parliamentary seat by a margin of over 2.04 lakh votes in the general election this year.
A senior Trinamul leader in Purulia said the mass-contact drive by the administration was currently working better than the Didi ke Bolo initiative.
"In different areas, people voted against Trinamul because of grievances against the local MLA or leader. So, the voters can't accept those leaders trying to reach out to them. In this context, the administration is working better to reach out to the people and solve their problems," a senior Trinamul leader in Purulia said.
In Hooghly, district magistrate Y. Ratnakara Rao has taken a different route: 1,000 officials have been asked to visit 25,000 public institutions, like schools, ICDS centres and health centres, for three days a month.
East Burdwan district magistrate Vijay Bharti has fixed Wednesdays for all senior officials, including deputy magistrates, to visit specific blocks to inspect different government programmes and interface with the residents.
Moumita Godara Basu, the district magistrate of Birbhum, said her last field visit had been to Rajnagar on November 6 and was accompanied by officials of all departments.
"In most cases, local people have no idea of government projects and the criteria to avail themselves of the benefits. In Rajnagar, people complained to me about ration dealers giving them fewer commodities than they deserve. But I found out that the dealer gave them the right amount, though in parts," she said, adding that spreading awareness of such schemes was one of the responsibilities of the officials.