Novel from hills goes places
The story is based on the violent Gorkhaland agitation of 1986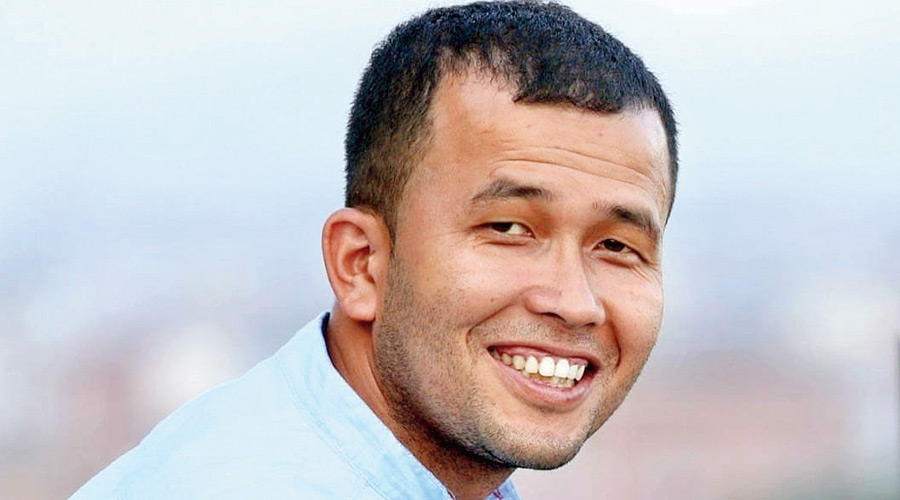 Writer Chuden Kabimo.
File picture
---
Darjeeling
|
Published 06.01.22, 01:44 AM
|
---
Chuden Kabimo, 32, a writer from Kalimpong does not know the motorable distance between the district headquarters and his village Malbong "because a pucca road has not yet reached my village", but his debut novel, Faatsung, is going places.
Faatsung, meaning "Song of the Soil" in Lepcha language, is a novel that Chuden wrote in Nepali in 2019. The same year the book was translated into Bengali by Samik Chakraborty. A few months back, Kathmandu-based author Ajit Baral translated the book in English.
"Dr Namrata Chaturvedi, an associate professor in the SRM University in Sikkim is translating the novel in Hindi," added Chuden.
The English translation has been simultaneously published in Nepal by FinePrint, in India by Rachna Books, and in the UK by Balestier Press. The second edition of the Nepali version is also out.
Watching his writing travel the world excites Chuden, but he is most happy for a different reason.
"I come from a remote place, I studied in Nepali but now my book's translation, Son of the Soil, has been included in the third year English honours syllabus by the SRM University in Sikkim from this academic year and this thought makes me most happy, more than seeing my work being translated in other languages," said Chuden.  
Chuden's novel starts from the stories he listened to growing up in his village. The story is based on the violent Gorkhaland agitation of 1986.
"During my travels from my native place to Kalimpong I used to hear stories of how people were killed and their bodies thrown in a particular place in Kaffer. I was born after the agitation and the stories sounded like myths," said Chuden.
From 2008, Chuden started working as a journalist while still a college student to finance his education. The job sharpened his interest in the political affairs of the region.
In fact, his collection of short stories, titled "1986," fetched him the Yuwa Sahitya Akademi Puraskar in 2018. The award is conferred by India's National Academy of Letters, the Sahitya Akademi.
Translator Baral said apart from taking Nepali literature to the rest of the world, "the distinct narrative" of Faatsung and the similarity in Nepal's Maoist movement prompted him to translate the work 
In 2011, Chattray Subba, a former chief of the Gorkha Liberation Organisation, an armed wing espousing the Gorkhaland cause, was released. Subba, was jailed for 10 long years on charges of trying to assassinate GNLF leader Subash Ghisingh, in 2011. Subba, however, was acquitted of the charges by court.
 "I decided to meet Chattray Subba and through him I met many of his men who took part in the agitation. This is how the story unfolded," said Chuden.
 "The distinctive narrative voice of Faatsung, the beauty of Chuden's writing and the similarities between our own Maoist movement and the Gorkhaland movement inspired me to translate it into English," said Baral.