None from any religion promotes riots, says Mamata Banerjee
After blaming BJP leaders , albeit without taking names, for the violence in the state, which raised questions on law and order in Bengal, Didi delivered a message of amity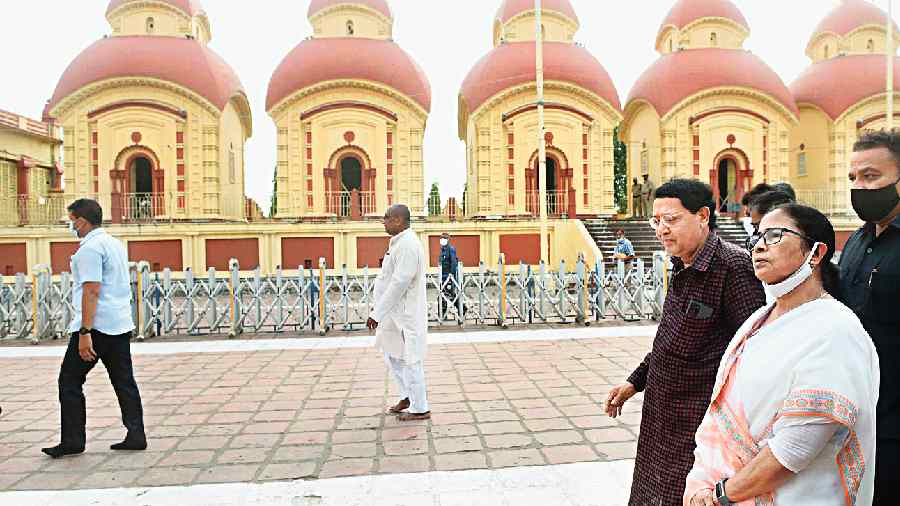 Mamata Banerjee at Dakshineswar Kali temple in Calcutta on Thursday.
---
Calcutta
|
Published 17.06.22, 02:29 AM
|
---
Chief minister Mamata Banerjee has said riots are the handiwork of a few "greedy" leaders and none from any religion promotes violence.
Although the chief minister didn't name anyone or refer to any specific incident, it was clear that her comments came in the backdrop of a series of violent protests across Bengal against derogatory remarks on Prophet Mohammed by now-axed BJP spokespersons Nupur Sharma and Navin Jindal.
"No one from Hindu, Muslim, Sikh or Christian communities promote riots. Riots are the handiwork of a few greedy leaders whose minds are filled with dirty things, just like a dustbin. They use their dirty minds to set the fire (of violence) here. They set cars on fire," Mamata said during her address after inaugurating a light-and-sound system at Dakshineswar Kali temple in Calcutta on Thursday.
After blaming BJP leaders — albeit without taking names — for the violence in the state, which raised questions on law and order in Bengal, Mamata delivered a message of amity and peace.
"I am here today and I may not be (there) tomorrow. Why will we quarrel? Why will we fight all the time? Why will we kill others? Why will we give hate speeches against each other? I am not saying these things only for any particular religion, but this message is applicable for people from all religions," she said.
In an attempt to drive home the message of religious harmony, the chief minister in her 30-minute address spoke extensively on the teachings of several polymaths and religious leaders in Bengal.
"Everyone has a religion by birth. We have separate names and surnames. We live with our religion but it does not allow us to abuse the other religion. We did not learn such practice. Our parents used to tell us about the stories on Ramakrishna (Paramahamsa), Rabindranath Tagore, Swami Vivekananda and Kazi Nazrul Islam and all those people worked for amity," she said.
Bengal witnessed large-scale violence in multiple districts, especially in Howrah, Murshidabad and Nadia, when people hit the streets against the remarks against the Prophet.
Several public and private establishments, cars and trains became the targets. The government had turned off the Internet in several pockets of violence-prone districts, including Howrah and Murshidabad. Several police officers were transferred by the state government over failure to control the law and order troubles.
From Nabanna, with folded hands, Mamata had requested the protesters to lift road blockades but later, her government took "tough actions" as the situation deteriorated and violence started spreading from one place to another.
Sources said the Trinamul Congress chairperson was very upset with the violent protests in the state as the BJP used the incidents to play the divisive card.
"She (Mamata) rightly said today (Thursday) about instigation by a few leaders to foment communal tensions in the state recently," said a senior Trinamul leader in Calcutta.