No second Singur: Mamata rebuts Jyotiraditya Scindia's charge
The BJP leader had accused the state government of not cooperating with the Centre by giving land for Calcutta's second airport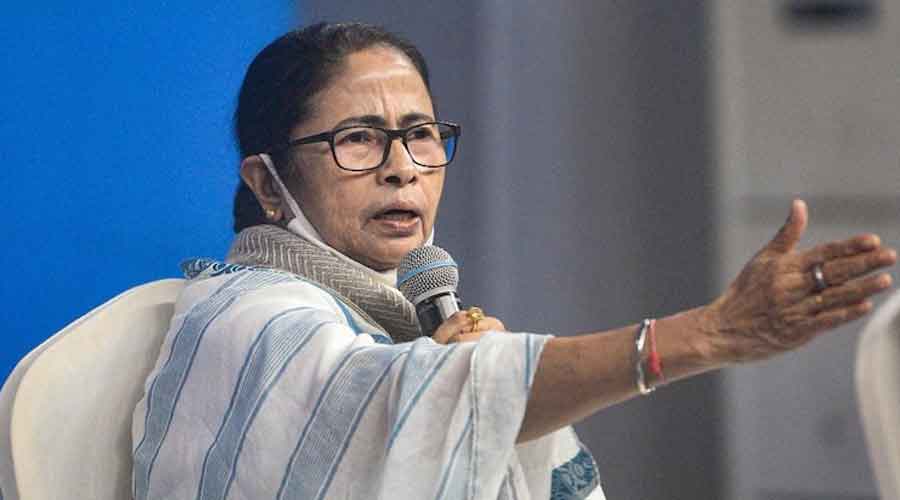 ---
Calcutta
|
Published 08.02.22, 12:23 AM
|
---
Mamata Banerjee on Monday said her government won't allow a "repeat of Singur and Nandigram" — referring to land acquisition attempts by the erstwhile Left Front government — to rebut Union civil aviation minister Jyotiraditya Scindia's charge that the Bengal government was not giving land for another airport in the city.
"We cannot take away land by killing farmers... We will not allow a repeat of Singur and Nandigram. We also want development but we cannot do this (forceful acquisition of land)," said the chief minister at the Calcutta airport before leaving for Uttar Pradesh.
Her comment was in response to questions from the media on Scindia's remarks on Sunday. The BJP leader had accused the state government of not cooperating with the Centre by giving land for Calcutta's second airport.
"The Calcutta Airport needs another 1,000 acres of land. Can I bulldoze all the houses (for the airport)? Is it possible?" Mamata asked, before adding that land to expand the existing airport would also be required after about 10 years.
"We will have to try to get the land. But we cannot evict everybody. This is not our policy," said the chief minister.
Mamata, however, also made it clear that her government would try to zero in on land needed for the proposed second airport and was sincere about it.
Mamata's comments, senior government officials said, are significant as she wanted to make it clear that she would not allow forceful acquisition even if her state government is pushing for large projects like the proposed coal mine in Deocha-Pachami.
Recently the state government began the process of zeroing in on around 3,500 acres of land in Bhangar, South 24-Parganas, for the second airport of Calcutta since the Centre rejected the proposal of considering Andal Airport as an extension.
However, search is on for new areas. "The state government has apparently stepped back and started searching land in other areas like Kalyani after ruling party leaders in South 24-Parganas expressed displeasure over the proposed airport in Bhangar. The area has a strong resistance to land acquisition," said a source.