Netaji B-Day bring Deb and Asok together
Joint attendance of Deb and Bhattacharya all the more glaring as elections to the Siliguri Municipal Corporation are round the corner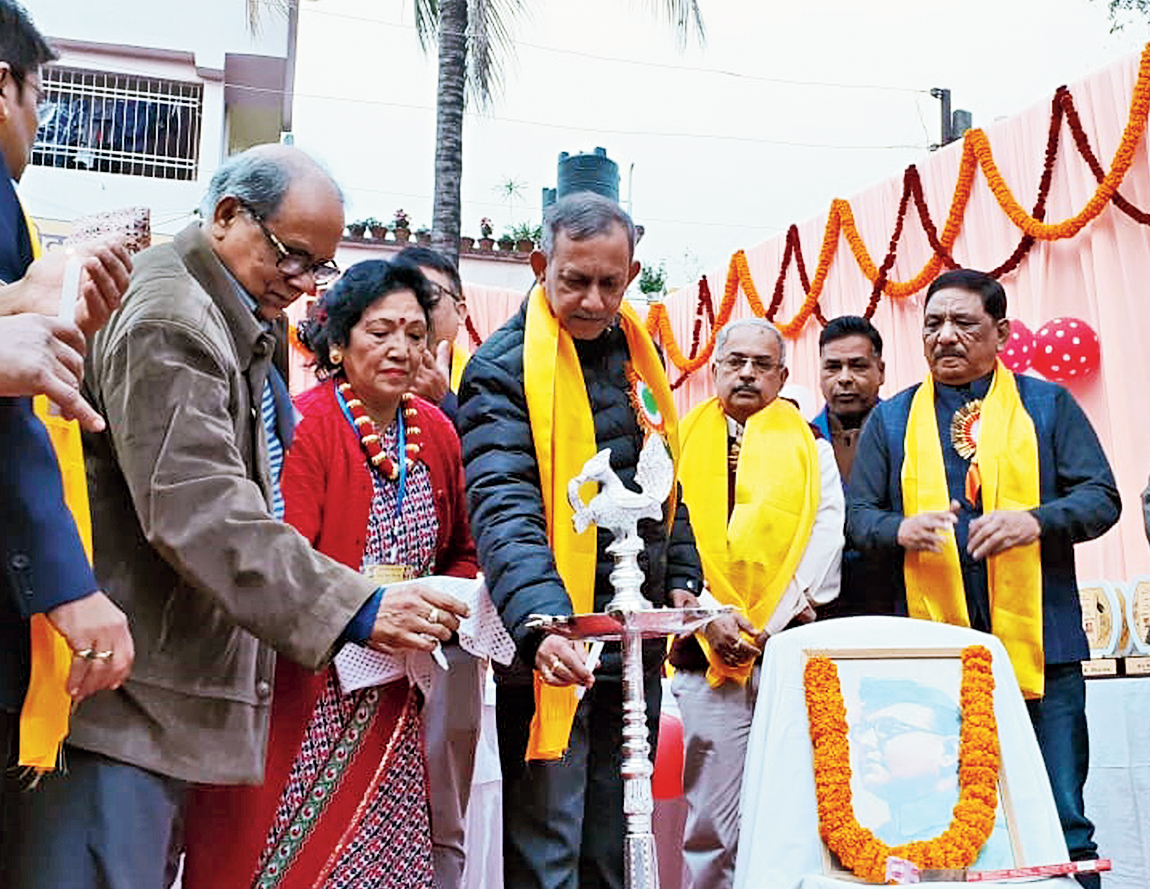 ---
|
Siliguri
|
Published 23.01.20, 09:22 PM
---
Netaji Subhash Chandra Bose's birth anniversary on Thursday brought together tourism minister Gautam Deb of the Trinamul Congress and Siliguri mayor Asok Bhattacharya of the CPM — who are considered to be arch rivals in the city.
Both of them shared the dais and addressed each other as they attended an event hosted by Bhanu Bhakta Samiti, a social organisation of the city, on the occasion.
The minister and the mayor were present as statues of Netaji and Major Durga Malla of the Indian National Army, a Gorkha martyr, were unveiled at Gurungnagar. The statues were readied by Bhola Paul, a local artisan.
"It was a rare scene to watch. I could not recollect when I had seen them sharing the dais together. They lighted the lamp together and addressed each other in their speeches. It would not be an exaggeration to say Netaji brought them together," said a senior resident of the locality.
At the event, Bhattacharya addressed the tourism minister in Nepali as "Mero Bhai Samma" (Like my brother).
"The organisation (Bhanu Bhakta Samity) regularly participates in different social activities and has been consistently contributing to the development of the city. We appreciate their decision to install the statues of Netaji and Durga Malla whose contributions are well known. Netaji had even thought about an alternative economy and today, we can feel the need of his presence," the mayor said.
Deb also mentioned the mayor's name in his speech.
"Considering the present state of affairs in our country, such an initiative on this day is very relevant. I would expect that together we will follow the ideology of Netaji," he said.
The tourism minister's presence on the same dais where the mayor was present is significant, pointed out political observers.
"When there has been a clear political polarisation across the country over the issues of the CAA, NPR and the NRC, both these leaders, who are prominent faces of politics in and around Siliguri, have shared the dais. They have also sent a clear message that all of them should unite and fight against these issues while referring to Netaji's ideology," said an observer.
The joint attendance of Deb and Bhattacharya is all the more glaring as elections to the Siliguri Municipal Corporation are round the corner. The SMC is the only civic body ruled by the CPM in Bengal. Trinamul has never won the SMC.
Krishna Lama, the general secretary of the Bhanu Bhakta Samiti, when mentioned about the "rare scene" that the organisers had made possible, said they didn't want to indulge in politics. "Our organisation is apolitical. As we had decided to install the statues of Netaji and Major Durga Malla, we thought of inviting prominent persons of the city, including the mayor and the tourism minister. We are grateful that both of them attended the event," said Lama.