Muslim outfit gifts new clothes to villagers in Bankura
The 20 youths held a meeting a fortnight ago to survey how many among the Hindu community in their locality needed garments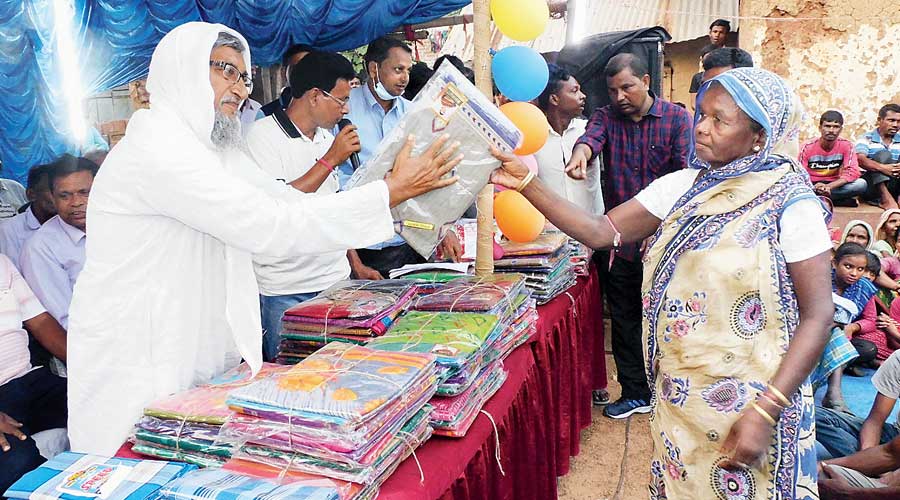 ---
Bolpur(Birbhum)
|
Published 12.10.21, 02:23 AM
|
---
A group of Muslim youths at remote Lodda village in Bankura district on Sunday gifted new clothes to around 400 poor Hindu families after they held a survey on how many villagers could not buy any for Bengal's biggest festival.
The 20 youths, mostly farmers and small traders, held a meeting a fortnight ago to survey how many among the Hindu community in their locality needed new clothes.
"Most of the Hindu families in our area are poor. We visited the homes to see if they were able to buy new clothes for their family members. Many could not. So we took details like age and gender of the family members, including children, as these were important before purchasing dresses. We distributed the clothes on Sunday," said Sheikh Bapi, a member of the Lodda Muslim Yuva Sampradai that organised this event.
On Sunday, during a cultural programme at the village grounds,  the members handed over new clothes to those who had enlisted their names.
"We believe in amity and here both Hindus and Muslims live like brothers. We
also celebrate our festivals together. For us, religion is a personal affair but festivity is for all," said Sheikh Mojammel, a member.
The youths said that to buy the new clothes they pooled their own money and from other philanthropic villagers to raise Rs 1 lakh. With this, they brought new clothes for the 400 families, including around 50 children and 200 women.
Bablu Bauri, whose elderly parents, wife and child received new clothes from the Lodda Muslim Yuva Sampradai, said he was in deep financial crisis and was in no position to buy clothes.
"I am a daily wage earner and used to work as a mason's helper here. I have not been earning regularly since the pandemic started. I had no money to buy new clothes for my family during Durga Puja this year," Bablu said, thanking organisers for the gesture.
Lodda is a village in Khalagram gram panchayat in Taldangra block area of Bankura. The village is the only one in the area with a sizeable Muslim population. The village has around 400 Muslim families, most relatively better-off.
In Bankura district, the Muslim population is only 8.08 per cent as per 2011 census.
This is not the first time that the Muslim youths have come forward to help needy Hindu families. During the lockdown, they helped villagers who had lost their jobs with dry ration like riceand pulses.
"When there was partial lockdown or curbs during the second wave of the pandemic we used to serve cooked food to the needy families," added one of the youths of the group.
The organisers said they will continue similar drives in the future too.