Modi pledges to heal Kashmir
Narendra Modi held out an olive branch to the people of Jammu and Kashmir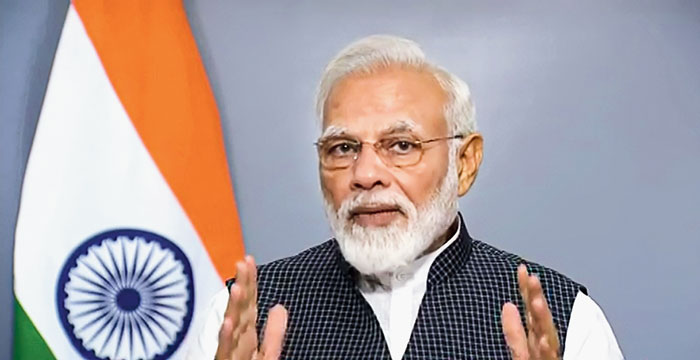 Modi addresses the nation in New Delhi on Thursday
(PTI)
---
New Delhi
|
Published 08.08.19, 09:03 PM
|
---
Prime Minister Narendra Modi on Thursday held out an olive branch to the people of Jammu and Kashmir, promising a development drive, early polls and restoration of statehood and urging dissenters to note the national sentiment and act in the national interest.
Modi's outreach came during a nearly 40-minute address to the nation, three days after his government had taken away Jammu and Kashmir's special status and statehood, bifurcated it into two Union Territories, and imposed an unprecedented lockdown.
The Prime Minister justified the "historic" decisions, which he said were taken by the nation as a "family" and had fulfilled the dreams of Vallabhbhai Patel, Bhimrao Ambedkar, Syama Prasad Mookerjee, Atal Bihari Vajpayee and "crores of patriotic people".
"A new age has dawned on Jammu and Kashmir and Ladakh," Modi said.
Modi said Article 370 and Article 35A — which gave the erstwhile state its special status and its people certain privileges — had only produced "separatism, terrorism, nepotism and corruption".
He showered a slew of promises — of development, a gradual relaxation of the prohibitory orders, full statehood, polls and a government "by the people and for the people". He mentioned no timetables.
"We had to take certain steps as a precaution… I want to assure the people of Jammu and Kashmir that their problems will slowly ease as the situation improves," the Prime Minister said.
He extended Id greetings to the people of Kashmir and promised the government would do everything to help them celebrate the festival. He said the government would also help Kashmiris from outside the Valley return home safely.
"I want to clarify a very important point to my brothers and sisters in Jammu and Kashmir. Just as you had MLAs in the past, you'll have them in future…. Like before, you'll have a chief minister," he said.
"I want to assure you that you'll get an opportunity to elect your representatives in a fair and transparent manner…. We all want Assembly polls held in the coming days."
Like Delhi, Jammu and Kashmir has been envisaged as a Union Territory with a legislature and a chief minister.
As for restoration of statehood, Modi seemed to have a long time frame in mind, conjuring up visions of a paradise that the region must turn itself into before it can be freed from direct central control.
"When this heaven on earth, our Jammu and Kashmir, once again crosses new heights of development and starts attracting the attention of the world, when citizens have ease of living and start receiving their due without hindrance, when the government machinery speedily takes up works of public interest, then I feel there would be no need to continue with central rule in Jammu and Kashmir," the Prime Minister said.
Modi held up the promise of better pay and benefits for Jammu and Kashmir's government employees, particularly the police. He said all the vacant posts would be filled and painted a rosy picture of job opportunities for the youth.
He promised to request the Hindi, Telugu and Tamil film industries to set up film units in Jammu and Kashmir and employ local people.
Referring to the critics of the government's moves on Jammu and Kashmir, he said differing opinions were natural and welcome in a democracy but the detractors should respect the "national sentiment" and cooperate with the government in the "national interest".