Mithun trains guns at Partha cash
The actor-turned-politician, deputed by the saffron camp ahead of Durga Puja to draw support for the party, was also critical of Mamata Banerjee's party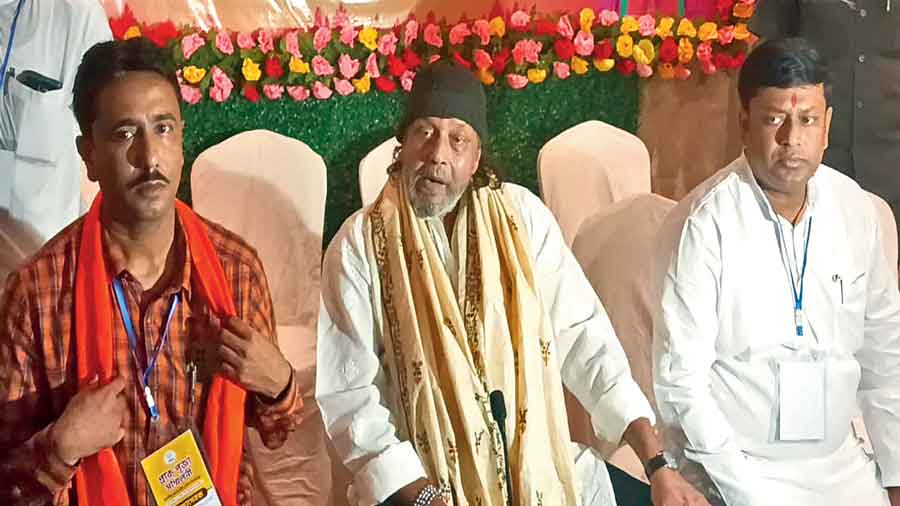 Mithun Chakraborty with BJP state president Sukanta Majumdar (right) at a meeting in Balurghat town on Sunday.
---
Raiganj
|
Published 26.09.22, 01:19 AM
|
---
Actor-politician Mithun Chakraborty attacked Trinamul on Sunday over the issue of corruption and alleged that former minister Partha Chatterjee was the custodian of the money recovered by the Enforcement Directorate from his close associate Arpita Mukherjee.
"In my entire career, I have never seen so much cash and have neither heard that such a huge amount has been recovered from some person. The seizure indicates that he (indicating Chatterjee) was the custodian of the cash illegally accumulated from people. It is unfortunate," Mithun, a member of the national executive committee of the BJP, told newspersons on the sidelines of an organisational meeting held at a private lodge in Balurghat town.
Mithun, along with BJP state president Sukanta Majumdar, arrived in Malda on Sunday and from there headed for Balurghat. BJP MLAs of South Dinajpur and district BJP leaders were with them. Mithun, deputed by the saffron camp ahead of Durga Puja to draw support for the party, was also critical of Mamata Banerjee's party.
Ahead of his visit, the South Dinajpur district administration had drawn flak from the BJP as it denied him room at the Circuit House. BJP leaders alleged that Trinamul tore festoons and banners across Balurghat ahead of Mithun's visit and police stayed silent. 
"People who make tall talks and manifest arrogance will witness a downfall, today or tomorrow. It is disappointing to see that some people are resorting to cheap politics but I do not make personal attacks. Let me assert that we should keep aside political differences and celebrate the festive season together," Mithun said.
The actor-politician, who campaigned for BJP ahead of last year's Assembly polls, said that a section of Trinamul MLAs are in touch with him.
"Let me reconfirm that a number of Trinamul MLAs are in contact with us and some of them are in close contact with me. The party has assigned me certain tasks and if it wants me to engage at the upcoming panchayat elections, I would try to deliver my responsibilities," said Mithun.
 Later in the afternoon, he inaugurated the Durga Puja of New Town Club in the Power House area of Balurghat and headed for Malda where he is staying in a private hotel. Trinamul leaders, however, sounded unperturbed with Mithun's visit. They said that in South Dinajpur district, infighting was rife in the BJP.
"Sukanta Majumdar and some other leaders are trying to repair damage by bringing in Mithun Chakraborty here. Such strategies will not work. People here have understood that BJP makes hollow promises and hardly delivers," said a Trinamul functionary.