Minister Suvendu Adhikari to unveil bust of language martyr in Murshidabad's Salar
Residents demand proper memorial to Abul Barkat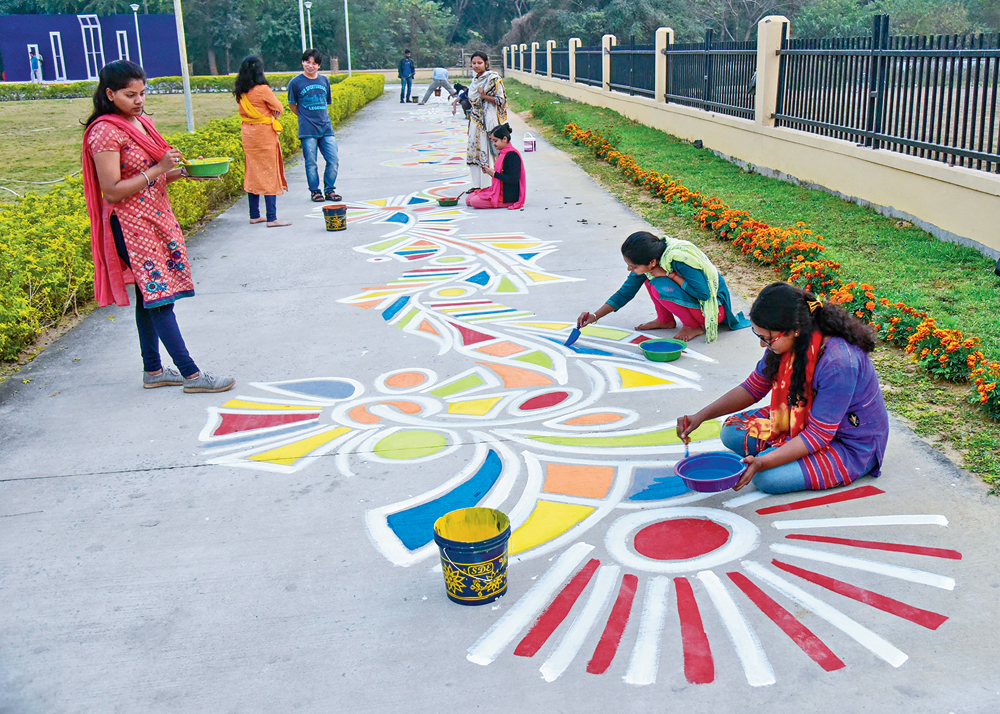 Indian and Bangladeshi students draw alpana outside the Bangladesh Bhavana at Visva-Bharati in Santiniketan on Thursday, the eve of International Mother Language Day
Picture by Indrajit Roy
---
Published 20.02.20, 10:45 PM
|
---
Transport minister Suvendu Adhikari will inaugurate a bust of Abul Barkat in Murshidabad's Salar on Friday, which is the 21st International Mother Language Day.
The Mother Language Day was announced by Unesco in 1999 and commenced from 2000.
The story of Barkat and February 21 are intertwined as he, along with Abdus Salam, Rafiq Uddin Ahmed, Shafiur Rahman and Abdul Jabbar, were shot dead by police on the campus of Dhaka Medical College on the morning of February 21, 1952.
The youths were part of a campus protest against the then East Pakistani government's decision to declare Urdu as the official state language in spite of Bengalis making up the majority.
"Barkat was from Murshidabad and had gone to Dhaka to pursue a degree in political science as a 19-year-old in 1948, and he could never come back," said 83-year-old Akali Sheikh, who knew Abul as a youth and neighbour in Salar's Bablagram village.
"We are happy that a minister is coming to inaugurate a bust of Barkat, but it is sad that his ancestral home could not be preserved. It was sold many years ago, shortly after Barkat's remaining family members emigrated to Bangladesh in the 1980s," he added.
Villagers recalled that distraught family members of the "bright and talented youth" — who secured a school 'matric pass' and an undergraduate degree from Krishnath College by the time he was 19 — were unable to cope with his loss. His father left their four-cottah, one-storey home, and adjoining 12 acres of property to a wakf estate in the mid-1970s and left, along with the remaining family members, for Bangladesh in 1980.
In Bangladesh, February 21 marks 'Shaheed Diwas', where citizens of the country remember the sacrifice made by the youths for the ethno-linguistic agitation by Bengalis against the East Pakistani government, which had tried to impose the Urdu language on the state.
"Barkat died for the Bengali language on February 21, but we have nothing here in Murshidabad that truly commemorates his life," said another neighbour.
Sources said beginning in 2010, residents and Trinamul Congress workers from the area had inaugurated a youth club and library in Barkat's memory. However, after hearing of Trinamul leaders' efforts to inaugurate a bust of Barkat this week, the overwhelming sentiment among older residents of the area was one of wistfulness.
"A club and library are fine. But what about commemorating a place where Barkat actually lived and played," asked Akali, referring to Barkat's erstwhile home compound, which was bought over by a family in the mid 80s.
Contacted, Golam Murshed, the current resident there, said he was aware of the sentiments involved.
"If they do come with a reasonable offer, we have no reason to say no to such an effort," he added.
On Friday, Suvendu Adhikari and Trinamul workers will unveil the bust of Abul on the Barkat Bhavan library premises.
"We have been saying for decades that Abul's memory should have been honoured at this village in a more concrete way. A statue, or a club, is okay. But Abul was never there himself," said Akali.
Trinamul leaders in the area said on Thursday that they were aware of the longstanding demand of the villagers.
"Tomorrow, we will also make a public appeal for the same during the inauguration of Abul's bust. Suvenduda (Adhikari) has been informed. If the chief minister comes to know of our intention, I am sure she will order a memorial near the site of his childhood home immediately," said Trinamul's Kandi president Goutam Ray.