Mike's 'doosras' leave all in splits
Mike Brearley was at Calcutta Club for a talk titled 'Captain's Pitch' with his childhood friend Robin Sengupta and former commentator Kalyanbrata Bhattacharjee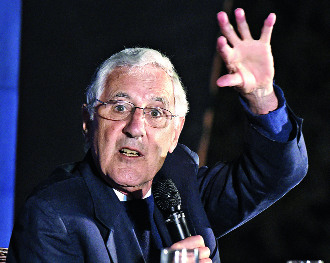 Mike Brearley at Calcutta Club on Wednesday.
---
Calcutta
|
Published 17.01.19, 10:54 AM
|
---
Mike Brearley the England captain met Mike Brearley the schoolboy in Calcutta on Wednesday evening.
John Michael Brearley, who led England in the 31 of the 39 Tests he played, winning 17, recalled his years of representing the City of London School in the 1950s on Wednesday evening at Calcutta Club.
Much of the discourse, titled Captain's Pitch, in association with The Telegraph, had Brearley and the two others on stage — his childhood friend Robin Sengupta and former commentator Kalyanbrata Bhattacharjee — and the audience in splits.
An anecdote from Sengupta — who used to bowl Chinaman representing another London school, The Haberdashers' Aske's, at the time — brought a boyish smile on the 76-year-old Brearley's face.
Sengupta recalled a match where Brearley was smashing the bowlers to all corners and out of sheer desperation he had made a loud appeal when one of his deliveries hit Brearley on the pads.
"It was a rank bad appeal because he was quite a distance down the wicket. I felt bad about it and apologised to Mike at the end of the over. His response left me stunned. He said, don't worry about it. But then went on to say, you would have had to worry if I had been given out," Sengupta, now a resident of Behala, said as the audience and Brearley, who had forgotten about it, burst out laughing.
"That for me embodied everything Mike was… competitive, yet witty and with a double dose of intelligence," Sengupta said.
Brearley said he did not remember this particular conversation but remembered Sengupta's bowling action and how he looked as a schoolboy vividly.
"You remember odd things. I remember very little of the strokes I played back then. But I remember a composite image of those days and in it is your bowling action and the large eyes you had," Brearley told Sengupta.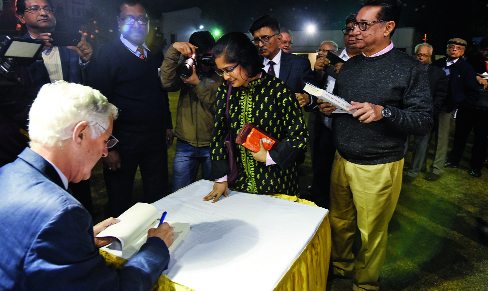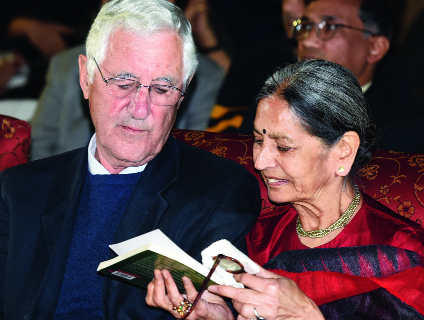 West Windies quicks
As the conversation drifted to his Test debut, which happened pretty late in the day at the age of 34, Brearley told the audience of a tour game before that where he was suddenly drafted into an MCC team to play West Indies with their fearsome four quicks.
"We got them out for 280 odd and then had to bat for a while on the first evening. Dennis Amiss was hit on the back of the head by a Michael Holding delivery and there was pool of blood on the pitch. What followed was the biggest delay I can remember for my next partner to emerge.
"A nightwatchman came out five minutes later quaking like a leaf. The man who was the other option had hid himself in the toilet furthest away," Brearley said.
He went on to say he broached the topic of the West Indian quicks because he wanted to defer telling the crowd that he had scored a duck in the next innings he played, which was his debut Test.
Indian batsmen
He spoke of how highly Tiger Pataudi was regarded during his Oxford days — Brearley himself was in Cambridge at the time — and called the man "attractive in so many ways".
Brearley spoke of his recent book, On Cricket, in which he uses three adjectives to describe Virat Kohli — handsome, charming and severe. "I called him severe because of his expectations from his teammates, which are the same for himself…. He has made himself the fittest player in the world. But what I like is how he genuinely feels happy when other players in his team are taking wickets or scoring runs and how he genuinely feels sad when that is not happening."
Bishan Singh Bedi
Brearley, whose book has a chapter on the former Indian captain and left arm spinner, said Bedi called him "Michael Boy" for some reason and that apart from Bedi's languid bowling action there was little to differentiate between him and off-spinner Erapalli Prasanna when it came to guile and flight.
He spoke highly of leg spinner B.S. Chandrasekhar who he said was faster than Bedi and Prasanna and "could bowl you a bouncer". "If you hit Bedi through the covers for four he would applaud the shot but he hated to be swept or slogged."
India's Cup chances
India has a "very good side" and are candidates for winning the World Cup in England later this year, Brearley said. His rider, though, was so English.
"Only England has a better chance than India, playing at home," he said to chuckles and smiles among the crowd.