Bengal will protect Hindustan from Talibani mindset: Mamata
The CM was speaking with a group of voters from various religious and linguistic communities in Bhowanipore from where she is to contest a bypoll on September 30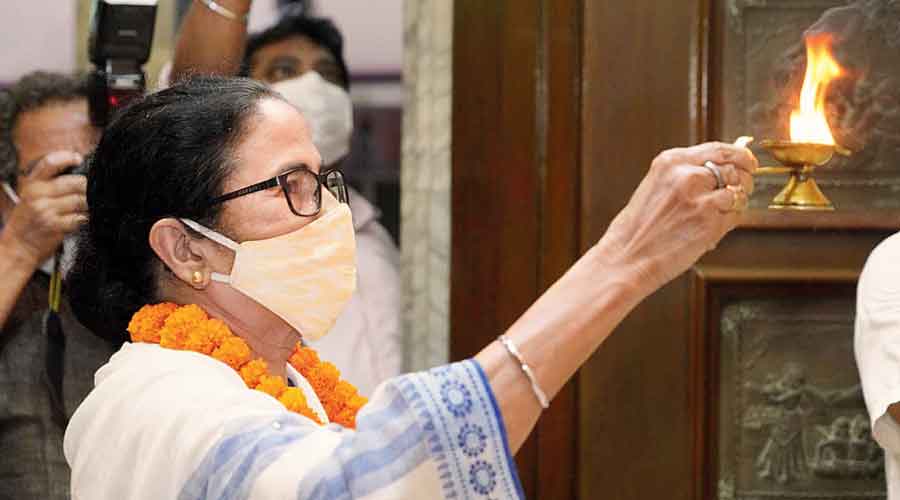 Mamata Banerjee at the Laxmi Narayan Mandir at Padmapukur in Bhowanipore.
The Telegraph
---
Calcutta
|
Published 17.09.21, 02:56 AM
|
---
Chief minister Mamata Banerjee on Thursday projected Bengal as the "protector" of Hindustan and the upholder of "the message of amity", promising a "fight till the very end" while skewering the BJP's divisive and communal agenda that she appeared to compare with a "Talibani mindset".
"Hindustan will never become Pakistan…. See, already, in their despicably divisive campaign, they called Nandigram 'Pakistan', now they are calling Bhowanipore 'Pakistan'," she told a group of voters from various religious and linguistic communities from a cosmopolitan pocket of Bhowanipore from where she is to contest an Assembly bypoll on September 30.
"In Bhowanipore, Sikhs, Hindus, Punjabis, Gujaratis, Marathis, Bengalis — we all live in peace and harmony. But even here, there are attempts to drive a wedge between people. A neighbouring nation is being named repeatedly. But we will, yet again, uphold the message of amity," the chief minister said.
"India can never be handed over to people with a Talibani mindset…. Our Hindustan will become an even better Hindustan, and Bengal will protect all of Hindustan," Mamata added.
Since the announcement of the bypoll, BJP state chief Dilip Ghosh has accused Mamata of trying to turn Bhowanipore into Kidderpore — a communally loaded reference to the southwestern neighbourhood of Calcutta that has a substantial minority population.
Without mentioning chief minister Yogi Adityanath by name, Mamata referred to the recent Uttar Pradesh government advertisement that featured the Maa Flyover of Calcutta. "Nowadays, our development here is being appropriated elsewhere. Actually, in the name of development, they have nothing to show for themselves. That's why my work is being passed off as their own," said the Trinamul chief.
"Claiming someone else's thing like this is simply not right. Such cheating should never happen. They could've told me, I would've taken a picture myself and sent it," she added.
Those who attended Mamata's half-hour address were from Ward 72, which is mostly made up of Chakraberia, Padmapukur and Bakulbagan. It is one of the eight wards of the Bhowanipore Assembly constituency. The session was held at Uttam Udyan in Padmapukur in the evening.
Shortly after the Uttam Udyan event, Mamata prayed at two shrines in the area — the Laxmi Narayan Mandir and the Gol Mandir — barely a kilometre apart.
In her speech, she criticised the BJP for choosing to attack her over her visit to a mosque — the Sola Ana Masjid in Ekbalpore — during her campaign, although she had been to the places of worship of all major communities in the constituency, such as the Gurdwara Sant Kutiya on Harish Mukherjee Road on Wednesday.
"They cannot see, unlike us, that the blood that courses through all our veins is uniformly red…. India cannot be surrendered to them. To ensure that, we will fight till the very end. All of you, please support me in this cause. Please elect me so that I can continue the good fight. In the near future, Bengal will show the way to the entire nation," said the chief minister, repeatedly underscoring her firm faith in and commitment to the pluralistic, inclusive ethos of Bengal.
"We will take the fight to them. We will not stop till they are defeated everywhere… even in Ahmedabad (in Gujarat, the home state of Narendra Modi and Amit Shah)," she said.
BJP quarrel
The BJP's Bhowanipore candidate, Priyanka Tibrewal, on Thursday got into an altercation with police officers accompanying her on campaign. She alleged that the police personnel were in civvies to make it appear as though she was violating Covid-19 norms by participating in illegal gatherings.
"I was served a notice by the Election Commission asking why I have been roaming with a large number of people.… If you come in police uniform, I'd know that you're not a civilian," she said during an argument with a cop who tried explaining to her that he and his team were deployed to ensure her security. Tibrewal said she did not seek it.
Her election agent, Sajal Ghosh, later wrote to the commission alleging that Calcutta police were working on behalf of Trinamul.