Mamata Banerjee to Hindi speakers: Stand by me
The chief minister vowed to keep standing by non-Bengalis and much as Bengalis in future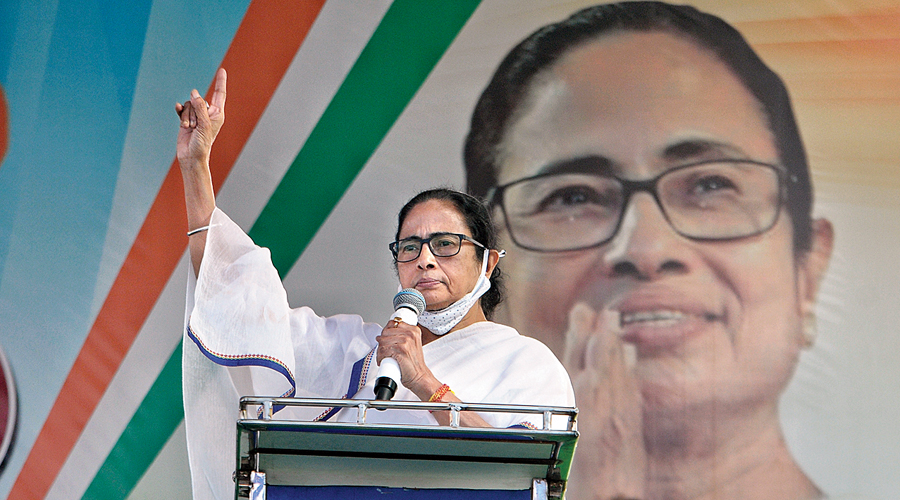 ---
|
Calcutta
|
Published 29.01.21, 03:09 AM
---
Mamata Banerjee has reached out to Hindi-speaking residents of Bengal, urging them to carry out their "huge responsibility" of standing by her in the Assembly elections and thereby defeating the BJP's alleged polarising agenda that seeks not only to divide between religions but also on the basis of language.
At an event titled "Hindibhashi Sang (Hindi-speakers with) Didi" at the Trinamul Congress headquarters here on Thursday evening, the chief minister vowed to keep standing by non-Bengalis and much as Bengalis in future, asking the attendees to support her in the polls and prove the BJP wrong.
"It is a matter of pride for us that we don't discriminate people against on the basis of language. We don't judge people for their language…. You have a huge responsibility. After Hindu-Muslim, now the BJP is attempting to polarise on the basis of Bengali and non-Bengali. We want you to vote for us in a percentage even larger than that of Bengalis," said Mamata to thunderous applause.
Hindi-speaking civil society members were in the audience.
Hindi-speakers comprise around a seventh of the state's electorate, with a decisive say in around 20 of the state's 294 Assembly seats.
The BJP, with its traditional reputation as a party that speaks for Hindi-Hindu-Hindustan, considers itself favourites to win most of them.
"Form little groups, go out, reach out, speak to everyone…. The man on the street. We cannot get traitors from outside to do this work for us, so you please do this for us.
We will keep looking after you after the elections, I swear to you. We will show you everything we can do for you in future," said the chief minister.
Mamata — while repeatedly bringing up the farmers' movement by Hindi-speakers from across the nation, reiterating her unconditional support for the cause — underscored her love for Hindi-speakers, their culture and their cuisines.
"Since we came here, has there ever been a problem for Hindi-speakers here?" she asked, amid loud nays from the audience.
"What Hindi will the BJP teach me? I will hold them by the ear and teach them instead. My Hindi might be a little broken, but at least I don't read out from scripts — typed out in Gujarati — off a teleprompter," she added, in an apparent jibe at Prime Minister Narendra Modi.
Mamata pointed out how her government was the first to give Hindi the status of an official language in Bengal, how it announced a two-day holiday for Chhath Puja and set up Hindi varsities and colleges.
"People from around the country are here, Bengal is a big family, we all live here happily… our essentially cosmopolitan culture, none can destroy," she said.
"Always remember, Didi will die but will not fail to keep her promise," she added.
Didi Ke Bolo
Mamata Banerjee issued a statement on Twitter on Thursday morning, announcing the completion of 500 days of the Didi Ke Bolo initiative designed by poll consultant Prashant Kishor, launched in the wake of the BJP's unprecedented gains the Lok Sabha polls in 2019.
"Over this course, 28 Lakh people reached out to the helpline 91370 91370 with more than 80 Lakh interactions taking place. I thank each one of you for your support & response," she posted.
"Through feedback received on @DidiKeBolo, GoWB implemented the 6th Pay Commission, expanded Samajik Suraksha Yojana & started programmes like Pathashree, Duare Sarkar, Paray Samadhan, Jai Johar, Sneher Paras, Prochesta Prakalpa, Taposili Bandhu & many others," she added.