Mamata Banerjee to attend Rajbanshi icon's event in Cooch Behar
According to political observers, the CM's decision appears to be a part of strategy to put pressure on BJP that has been playing identity politics in north Bengal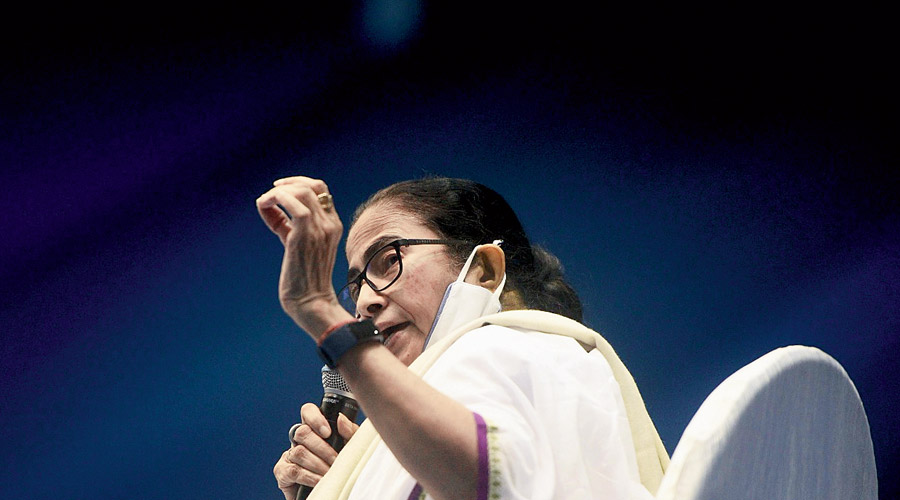 Mamata Banerjee
File picture
---
Siliguri, Cooch Behar
|
Published 09.02.22, 01:34 AM
|
---
Chief minister Mamata Banerjee will reach Cooch Behar on February 16 to attend the birth anniversary celebrations of Chila Roy, a member of the Cooch Behar royal family and an icon of the Rajbanshi community, district administration sources said on Tuesday.
The Ananta Maharaj-led faction of the Greater Cooch Behar Peoples' Association (GCPA) is organising the event at Pushnatdabri in Siddeshwari village under Cooch Behar II block located around 15km from Cooch Behar town.
Mamata's decision to attend the programme is significant, because over the past few years, Ananta Maharaj and his followers had been with the BJP. It is only recently that he has shown indications of leaning towards Trinamul.
On Monday, district magistrate Pawan Kadyan and district police chief Sumit Kumar visited the site.
"The chief minister will attend the event on February 16. People from across the district and neighbouring areas will witness the celebrations," said Trinamul leader and former minister Rabindranath Ghosh.
Shukladhwaj, popularly known as Chila Roy, was the younger brother of King Naranarayan of the Cooch Behar royal family, and known as a fierce fighter. This year, the GCPA will celebrate his 512th birth anniversary.
Political observers pointed out that Mamata's decision to attend the event appears to be a part of the strategy to put pressure on BJP that has been playing identity politics in north Bengal for a while.
"The strategy is pertinent at a time the BJP is trying to mount pressure on her government by engaging the Assam government and the Centre to reciprocate to a proposal for peace talks with the KLO," said an observer.
Since December last year, the issue of holding peace talks with KLO, a banned terror outfit that is headed by Jeevan Singha who hails from Kumargram of Alipurduar, has gained ground. Assam chief minister Himanta Biswa Sarma himself had welcomed the proposal. "Interestingly, the Bengal government has not been included in the process so far. It is evident that the BJP wants to take credit of the proposed negotiations which in due course can help it consolidate support among the Rajbanshis in Bengal. It seems the Trinamul supremo wants to confirm the support of all associations of Rajbanshis…," the observer added.