Bengal flood situation is man-made, claims Mamata Banerjee
Damodar Valley Corporation released '10 lakh cusec' water in 2 days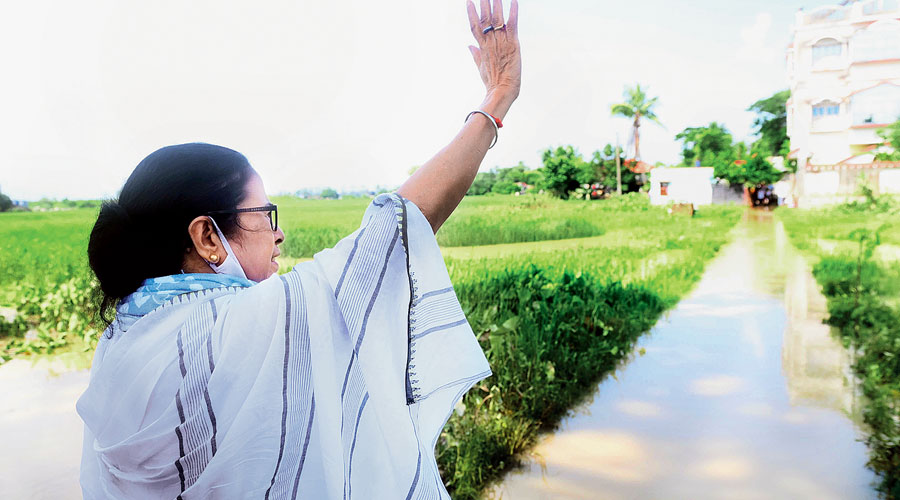 ---
Calcutta, Bolpur(Birbhum)
|
Published 03.10.21, 02:30 AM
|
---
Mamata Banerjee on Saturday explained why she called the floods "man-made" as she rolled out data on the quantum of water released by the Damodar Valley Corporation (DVC) over the past 48 hours.
The chief minister said the manner in which huge quantities of water was released from the DVC dams within a short period was a "crime" as it caused havoc in several south Bengal districts leaving over 22 lakh people marooned.
"You have to listen to me to understand why such a flood occurred this time. The DVC's Panchet and Maithon dams released 49,000 cusec water at noon on September 30, the day of polls (Bhowanipore and two segments in Murshidabad) here. Within an hour, they started releasing again and 1 lakh cusec was released till the evening. From 8.30pm, they (the DVC) started releasing 1.25 lakh cusec. Which means they released around 3 lakh cusec water only on September 30," Mamata said after visiting flood-hit areas of Arambagh's Kalipur in Hooghly.
She reached Arambagh by a chopper at around 1pm, and after landing at Pallishree helipad, went to visit flood-affected areas in Kalipur where she also spoke to people and enquired about their well-being. Then she made an aerial survey of flooded areas in Bankura, West Burdwan, Hooghly, Howrah and West Midnapore.
Later in the day, she held a review meeting at Nabanna and a news briefing.
"They released water at midnight too without informing us.... So I am saying it is a crime and the flood is a man-made one," she said.
The chief minister, reading out from sheafs of papers,  said at Nabanna that instead of allowing the water released on September 30 to recede, the DVC released a huge quantity of water on October 1, which aggravated the situation.
The chief minister said 1.5 lakh cusec water was released from 8.15am on October 1 till 5.30pm. From 5.30pm, they released 1.25 lakh cusec of water. In the evening, the DVC started releasing nearly 2 lakh cusec from its dams.
"A total of nearly 10 lakh cusec water was released from the DVC in a span of two days. Release of such a huge quantity of water in a span of 48 hours is unprecedented," said Mamata after holding a review meeting with senior government officials at Nabanna.
She compared the release of water by the DVC in July with that now to explain why the flood was completely man-made. "In July when many areas were inundated, DVC released only 1.12 lakh cusec of water. But now they have released around 10 lakh cusec of water. There was heavy rain on one side and on the other side there was no information for us," she said.
She said heavy rainfall in Asansol on Wednesday night inundated parts of the town, but the water receded within hours. "We have dug up 3.5 lakh water bodies and constructed check dams worth Rs 500 crore. This is why we could tackle heavy rainfall this year. The problem occurred only because the DVC released excess water without prior information," said the chief minister.
She also criticised DVC's failure to hike water storage capacity of its dams and blamed its inaction despite reminders from the state.
The chief minister said that DVC's dams could store more 2 lakh cusec water if they could desilt and dredge them.
"DVC could store more than 2 lakh cusec water in their dams if they dredged them. If they did so, our Bengal would not be submerged repeatedly," she said.
The chief minister said that more than 4 lakh people were evacuated and 1 lakh houses were damaged due to the heavy floods.