Mamata Banerjee's NRC jab at BJP in Assam
NRC and the Citizenship Bill are "lollipops" to fool the people: Mamata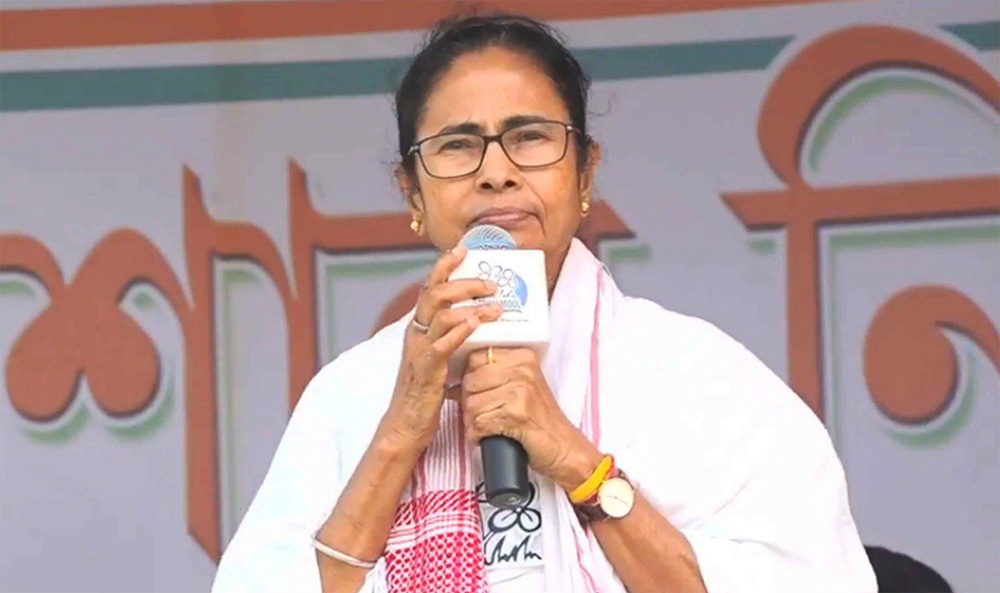 Mamata Banerjee in Dhubri on Friday.
(@AITCofficial)
---
Dhubri
|
Published 05.04.19, 08:05 PM
|
---
Mamata Banerjee on Friday brought up in Assam's Dhubri the twin emotive issues of the National Register of Citizens (NRC) and the Citizenship Bill, using her first rally outside Bengal this election season to accuse Narendra Modi of handing out "lollipops" to fool the people.
The Trinamul chief, whose party has fielded candidates in nine of Assam's 14 Lok Sabha seats, recalled she had sent teams when Assam had erupted over NRC last year.
"The NRC is a deep conspiracy. In two days after the NRC draft was published, I sent a team from my party to Assam. Senior (Trinamul) lawmakers were not allowed to go out of the airport and assaulted…. Do you know why they keep dividing Bengali Hindus and Bengali Muslims in Assam? If you unite, the BJP will become a minority," Mamata told the rally in Dhubri, claiming FIRs had been lodged in Assam "against my entry".
The Bengal chief minister continued her description of Modi as "Expiry Babu". "He is giving you two lollipops, the NRC and the Citizenship Bill. They are misleading you…. Those who had come to India before March 25, 1971, are all Indian citizens."
Mamata accused Modi of "fooling people".
"What is the BJP telling you now? That they will bring an act and turn you into a foreigner….You will be stripped of all basic rights, education, healthcare, access to places of worship, voting rights, livelihood…. He (Modi) is always fooling the people."
Trinamul sources said the Bengal chief minister had realised the repercussions of the NRC and Citizenship Bill, and decided in November last year that her party should contest in Lok Sabha seats there.
Although Trinamul has not contested parliamentary elections before in Assam, it had put up candidates in 13 of 126 Assembly seats in 2016, securing 27,739 votes or 0.16 per cent of the votes.
Launching her party's general election foray in Assam on Friday, Mamata said: "The NRC exclusion was not only for Muslims, the names of 22 lakh Hindus were excluded….We are fighting for their inclusion."
Finger at Himanta
Mamata referred to allegations against Assam finance minister Himanta Biswa Sarma in the Saradha scam. "Has Modi initiated action against him (Sarma)? Has he been arrested? Modi Babu gives big speeches about chit funds in Bengal but does not utter a word in Assam."
Sarma, convenor of the Northeast Democratic Alliance and a key BJP player in the region, has earlier dismissed the charges and accused Mamata of running a "baseless" campaign against him.