Mamata govt to organise 3-day tribal fair across 15 districts
This is the first time that the government is organising the fair — Jay Johar Mela — exclusively for the tribal community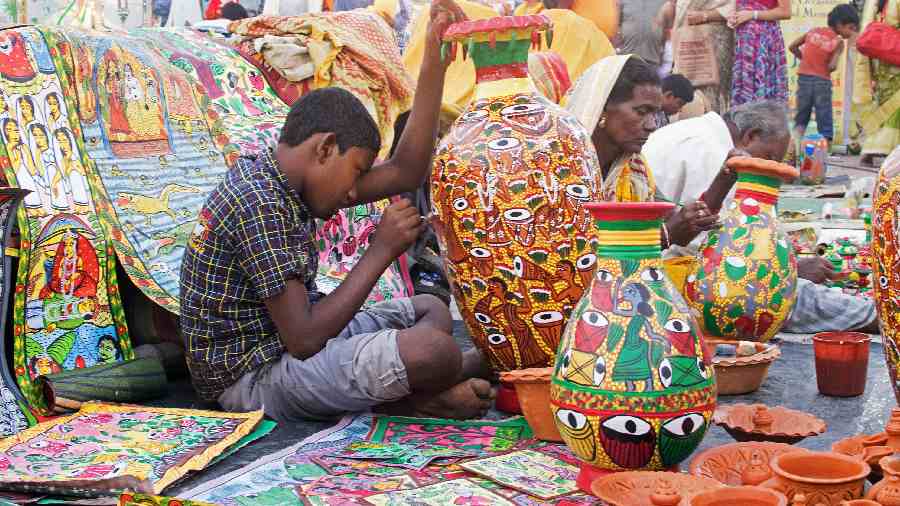 Representational image
Shutterstock
---
Kolkata
|
Published 22.01.23, 05:16 AM
|
---
The Mamata Banerjee government will organise a three-day fair for tribal people in 102 blocks across 15 Bengal districts from January 28 to 30 in an attempt to woo the Adivasis ahead of panchayat polls. 
This is the first time that the government is organising the fair — Jay Johar Mela — exclusively for the tribal community.
Fairs would be organised in 102 blocks spread over 15 districts in both north and south Bengal with a sizeable tribal population. 
The 102 blocks are in 15 districts such as Bankura, Jhargram, West Midnapore, East Burdwan and Birbhum in south Bengal and Alipurduar, Darjeeling and South Dinajpur in north Bengal. The tribal population in most of the blocks where the fairs would be held is between 10 to 47 per cent of the total population. 
"The district magistrates of those districts have been asked to organise the fairs involving tribal people in the respective districts.... The districts have to compile reports on tribal development after the fairs," said a senior Nabanna official. 
Sources said Joy Johar Mela is the brainchild of chief minister Mamata Banerjee, who recently visited Alipurduar and distributed benefits among the tribal population there.
During her visit to Jhargram in November last year, she visited tribal homes for a firsthand experience of their life and livelihood issues. 
Sources said Trinamul was concerned about tribal votes before the panchayat polls, as ground reports indidate things are not in favour of the ruling party.  
"Although our party did well in the tribal belt of Jungle Mahal in the Assembly elections in 2021 in comparison to 2019 Lok Sabha polls, the BJP has a considerable presence in the region. In north Bengal, BJP's presence is very significant in terms of seats, too," said a senior Trinamul leader in Calcutta. 
"Joy Johar Mela is being organised for the first time this year but will continue in the coming years also," he added.
In an order issued by the tribal development department, district authorities have been asked to ensure the distribution of livestock like chicks, piglets and goats among at least 100 families in each block to encourage animal rearing for better livelihood. ST certificates, scholarships, farm equipment and bicycles for students would be distributed at the fair venues. 
"The fairs will also promote several government schemes meant for tribal people as well as others they can apply for. The three days will also see sports and cultural events," said an official.