Malda: Didi with 'return gift', funds worth around Rs 770 crore in offing
The district has overwhelmingly responded to her request to provide her with both "aam and aamsatwa" (mango and mango candy) in the Assembly elections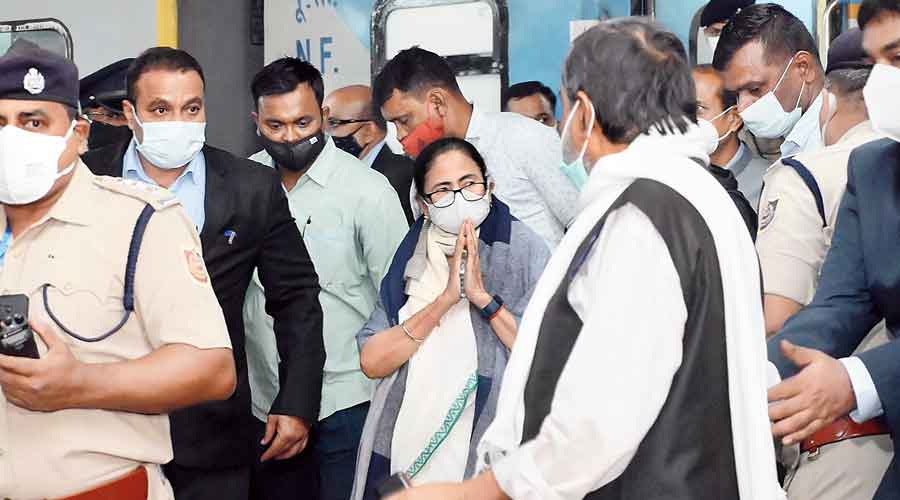 ---
Malda
|
Published 07.12.21, 12:45 AM
|
---
Chief minister Mamata Banerjee will inaugurate a slew of projects and also lay the foundation of a number projects worth around Rs 770 crore prior to her administrative review meeting in Malda scheduled on Wednesday.
This is being seen as Mamata's "return gift" to the residents of Malda, a district that has overwhelmingly responded to her request to provide her with both "aam  and aamsatwa" (mango and mango candy) in the summer Assembly elections.
For the first time, Trinamul could bag eight of 12 Assembly seats in Malda in the Bengal elections held this summer.
After assuming the chief minister's office for the third consecutive time, this is Mamata's first visit to Malda. On Monday evening, she reached Malda Town station by train and will visit Raiganj on Tuesday to attend the review meetings of North and South Dinajpur districts.
On Wednesday, she will attend the review meeting in Malda and will then head for Murshidabad.
"Before the meeting, she will virtually inaugurate 37 projects for which a sum of Rs 298.77 crore has been spent. The chief minister will also lay foundation stones of 59 new projects, the estimated cost of which is a whopping Rs 469.65 crore," said a source in the Malda district administration.
Among these projects are schemes taken up by state departments like public health engineering, health, irrigation and waterways, public works department, power, municipal affairs, panchayat and rural development.
"Most of the new schemes which have been listed are of the PHE. Among these are arsenic-free drinking water supply and projects pertaining to drinking water infrastructure," the source added.
Malda, a district with a minority vote bank of nearly 60 per cent and an erstwhile Congress bastion, has always been a focus of Trinamul.
However, the Congress kept on winning most of the Assembly seats till 2021. In fact, during the past three-four years, even the saffron camp managed to emerge as a new political force in the district by playing the polarisation card.
But the Assembly polls held this year  changed the scenario in favour of Trinamul. The party secured eight seats and the BJP the remaining four seats. The Congress drew a blank.
"In Malda, elections are due in two civic bodies, and in both these civic areas, the BJP has won. We have managed to win eight seats but simultaneously need to retain the municipalities to consolidate our support base in the urban areas of the district. At such a time, the chief minister's visit is significant," said a senior Trinamul leader.
Malda Trinamul leaders are also waiting for Mamata's instructions on the post of the sabhadhipati of Malda Zilla Parishad. Trinamul is in power in the rural body but the post is vacant for almost six months as Gour Chandra Mandal, the former sabhadhipati, has stepped down after defecting to BJP.