Malda: An innovative way to woo new voters through Soccer
On an average, 250 to 300 forms are collected by eligible voters during the football matches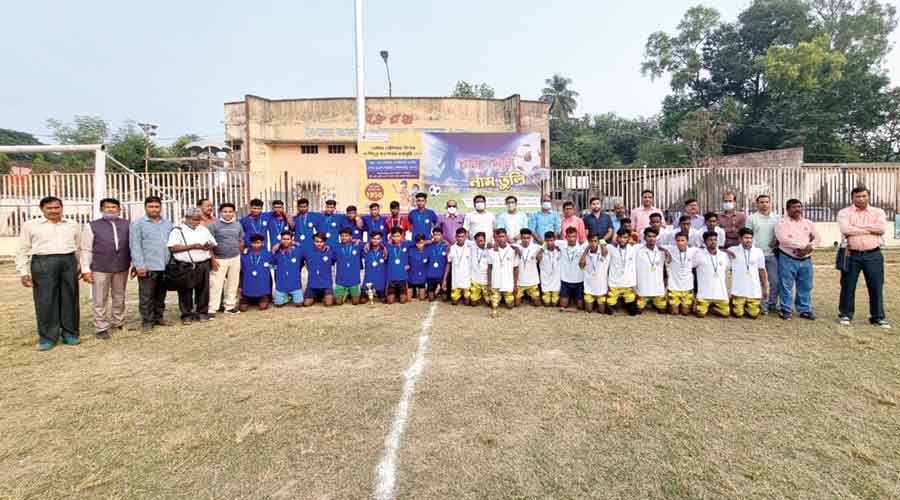 Football players with election department officials after a match in Englishbazar.
Telegraph photo.
---
Malda
|
Published 27.11.21, 02:43 AM
|
---
Football, the beautiful game, is helping Malda district administration achieve more score on the voter list.
The administration has come up with an innovative method to enlist new voters. Football matches for players under 19 years old are being held in Malda district.
"These matches are attracting young crowds and while the matches are being held, the administration is distributing forms for names' enrolment on the voters list," said a source.
"On an average, 250 to 300 forms are collected by eligible voters during the football matches," Soumyo Ghosh, office-in-charge of the election department, said.
Schools in each of the 15 blocks of the district have been shortlisted to contest against each. Winner of the block-level will compete at the sub-divisional level before the grand finale.
"Senior administrative officials will be present at the finals which will be held at Englishbazar in Malda soon," said Arun Sardar, district youth officer.
The football matches are also attracting parents whose wards are eligible to vote. "The parents too are showing interest. Overall the campaign has been successful and we are expecting a good enrolment of first time voters," said a district official.
The revision of voters list will be completed on January 5. As of now there are nearly 29.96 lakh voters in Malda district out of whom 14.73 lakh voters are women as learnt from the sources.