Long-distance runner does district proud
Thami gave seasoned marathoners a run for their money and won one of the toughest races in the country — the 65km Buddha Trails that criss-crosses Bengal highest point Sandakphu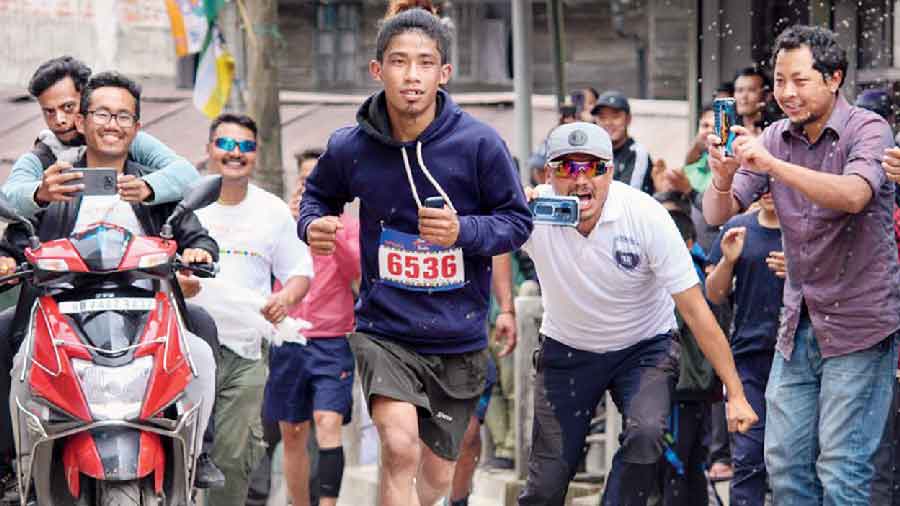 Som Bahadur Thami, who has won the 65km marathon to Sandakphu
The Telegraph Picture
---
Darjeeling
|
Published 14.05.22, 02:06 AM
|
---
Before May 1, Som Bahadur Thami's only tryst with long-distance running had been the daily trek of one hour to reach a motorable road from his village in the Darjeeling hills and a competition three years ago. 
Now, sponsors from across Darjeeling are running after the 27-year-old farmer from the nondescript and hostile village of Gurdung in Rimbick with requests to take part in events across the country. 
The reason: Thami gave seasoned marathoners a run for their money and won one of the toughest races in the country — the 65km Buddha Trails that criss-crosses Bengal highest point Sandakphu, situated at an altitude of 11,929ft. The time he took — seven hours, 21 minutes and seven seconds — is a Buddha Trails record. 
During the epic sprint, Thami did not even have the basic gear needed for such a physically sapping competition. Nor was he carrying hydration pouches like the others, stopping by roadside "water station"now and then to quench his thirst. 
"I once ran a 30km marathon in my area, Rimbick, in 2019. Then, too, I had stood first. Apart from that Rimbick run, I had never run anywhere," Thami, who earns a living by working in his agricultural field and collecting firewood and grass, told The Telegraph.
Thami has never ventured out of Darjeeling district, having spent most of his life in his native Gurdung village. "I studied till Class V. I had to walk for more than two hours daily to reach my school at Srikhola," he recalled. This year, Thami "just felt like" participating in the May Day run. Of the 121 runners who had enrolled, only 66 could complete the arduous run.
Most of the runners were well equipped for the marathon.
"Most of them had hydration pouches, running poles, trail running shoes, running gel, hydration tablets, salt pills and smart watches with GPS," said Gatty Shrestha, a participant.
Thami just had a basic phone that he used to time his run. "After he won the race, we realised he was not even wearing proper running shoes, which is the basic requirement. He ran wearing a jumper," said Vikram Rai, founder of the Vik-Run Foundation.
After the victory, the foundation gifted Thami a pair of running shoes and other items.
"I am now being sponsored to run in a 10km race in Gangtok and a 100km race in Himachal Pradesh," said Thami.
He will be competing in the Solang Sky Ultra run in Himachal.
"These days I wake up at 3am and run till 6am, covering around 10-12km as part of my preparations for these runs. I am enjoying my practice sessions and want to run in more races," said Thami, who has never been coached by anyone in his life.
Mira Rai, an international trail runner from Nepal who had joined the Maoist movement at the age of 14 but later became a champion runner at 26, has a congratulatory message for Thami.
"I heard about Som Bahadur Thami's feat and I would like to congratulate him and also the people who are supporting him and providing him an opportunity to explore trail running," said Mira in a video message.
Thami's said he was "100 per cent sure that I would come second, and not first".
"A day before the run, my father, however, told me I would win the race. Maybe I won because I ran simple (in simple clothing)," Thami said. Thami lives with his parents, wife and 11-month-old son.