Lockdown solace for 'book thieves'
Hill teacher's innovative 'no-rules' library a hit with kids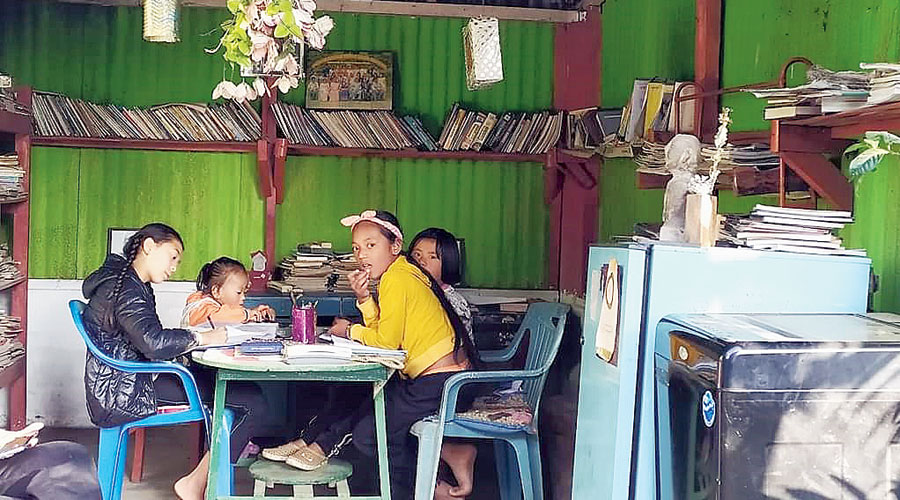 ---
---
Srijana Subba, 39, a teacher from this tiny hamlet set on a rolling tea garden, some 34km from Darjeeling, is teaching her students something that they are enjoying thoroughly amid the pandemic as schools stay closed.
An avid reader and writer, Srijana, who's the physical science teacher of Pokhriabong Girls' Higher Secondary School, opened an innovative "no-rules" library that she named the Book Thief Open Library in her garage attached to her home way back in 2015.
The irreverently named library that invites children to browse through hundreds of books freely and take what they want as "book thieves". The children maintain their own register of the books they have taken.
Srijana, who recently penned a book on freedom fighter INA Captain Dal Bahadur Thapa, said she was inspired to create a library with a difference after reading Australian author Markus Zusak's acclaimed novel, The Book Thief.
"I'd always think that the world would be so beautiful if young minds were book thieves rather than engaging in non-productive activities," she said, echoing the universal grumble of parents that kids spend too much time with their phones.
Children used to come to her library earlier too, but numbers shot up — to over 30 students a day — during the Covid-induced shutdown of schools.
The library, which is painted in bright colours, has books stacked inside out-of-use refrigerators and jeep carriers. Tyres have been painted for décor and locally available bamboos and wood carved into chairs and tables. "There are no rules, no librarians, children run the show, they maintain their own register, and this probably attracts them to the library," said Srijana.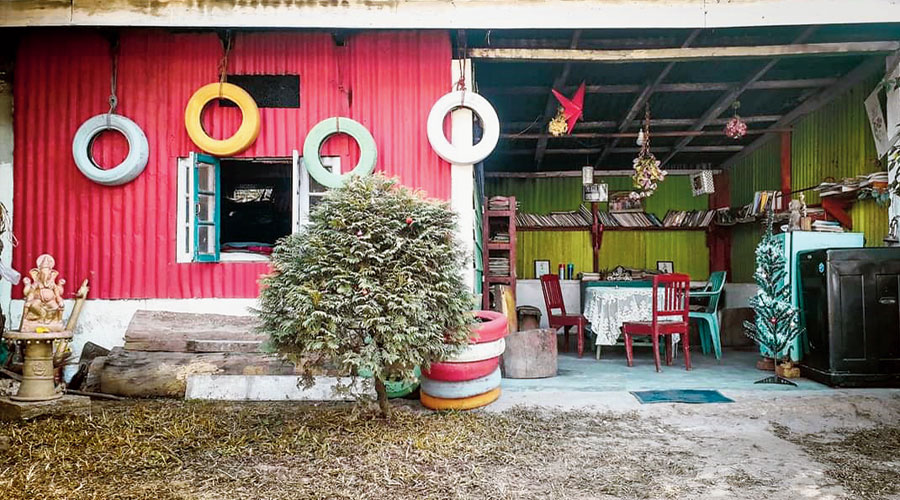 She added that during the lockdown, the library is also a "playground of minds".
"In this tea garden area, there are hardly any physical spaces open for children. There are no parks for children here. So the children come to the library for books," she said. "I only ensure that the place is not crowded at any time," she added, referring to social distancing.
How did the library come up? "I realised one fine morning that my cosy room was getting cluttered with books. I thought it would be nice to share my books. I told my parents I'd use the garage as a library," she said, adding that the library started with her own collection but over the years grew with well-wishers and writers sending her books.
For teenagers like Sakshi Rai, a Class XII student of Nagri Farm Higher Secondary School, the library is her time-out zone.
"We are staying indoors as much as possible (because of the Covid-19 pandemic) but we drop at the library for some books," Sakshi said. "The books here are nice. I'd really love to read some science fiction and general knowledge books too," she added.