Loans to pay but homeless in Bowbazar
All apartment blocks have to reserve a portion of their parking area for electric vehicle charging stations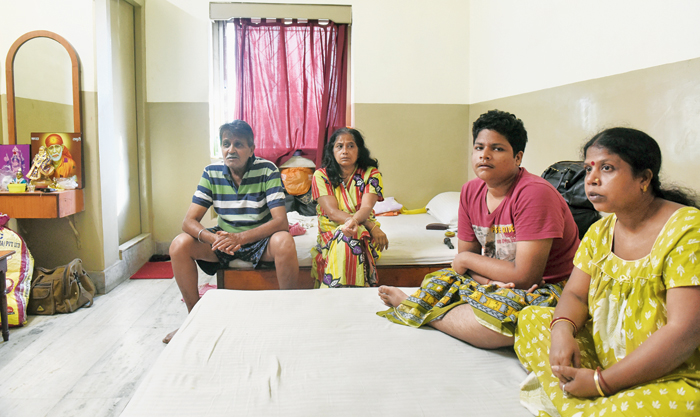 ---
|
Calcutta
|
Published 06.09.19, 10:14 PM
---
For over 200-odd residents of Durga Pituri Lane, Syakrapara Lane and Gaur De lane in Bowbazar, a swirl of worries seems to be hovering around their existence.

Most of them being tenants with no pucca rent receipts, the challenge now is whether they would qualify for the promised Rs 5 lakh compensation, which they desperately need to meet expenses.
Several women have taken small loans for running smalltime businesses to support their husbands. That means paying premium every week. With business gone and husbands left without trade, many families are now wondering how they will manage their basic expenses, including kids' education.
Smriti Chakrabarty and Rina Chakrabarty, sisters-inlaw and residents of Durga Pituri Lane, have been living in a house for almost five decades on rent. Their husbands used to run small businesses till cracks developed across rows of buildings and the lane had to be evacuated of residents.
Lodged in a hotel near Sealdah, the Chakrabartys are not sure of what lies ahead.
'We don't have rent receipts since 2011. Will we qualify for compensation?' asked Smriti.
'I tried meeting the local councillor today (Friday) to find out if we would. But he was busy in a meeting with police officers. There are several monthly expenses that we have to meet apart from food. How will we survive?' Smriti's husband ran a small flower shop on Durga Pituri Lane. After their son Dibyendu was admitted to Class XI in Hindu School last year, Smriti started a small business of making nightgowns and blouses with a loan of Rs 1.5 lakh from a private bank. The loan condition stipulates her to return around Rs 1,700 every Friday.
Rina, who lived a floor above her, decided to follow Smriti and took a similar loan.
On Friday, inside a small hotel room stuffed with whatever the Chakrabartys could take out during a 15-minute entry to their home on Thursday, there was complete stillness. On a small table, the family Gods sat in a row near a dressing table.
'Around this time of the year, ahead of the festivals, we get good orders,' said Rina. 'Now we are not sure how to pay the next week's premium. There is no income. How will Smriti pay for Dibyendu's tuitions?' The Kolkata Metro Rail Corporation (KMRC), the implementing agency of EastWest Metro, on Wednesday accepted Mamata Banerjee's proposal to give a one-time compensation of Rs 5 lakh each to the Bowbazar families who have been evacuated.
The amount is meant to meet the immediate needs of the affected families and does not include compensation for loss of income or valuables, an official said. Several homeless residents have also asked for compensation for the trauma they are enduring.