Female leopard flees from zoological park in Jhargram
Police, the local administration and foresters made public awareness announcements asking people to be alert and inform police or foresters if the animal was spotted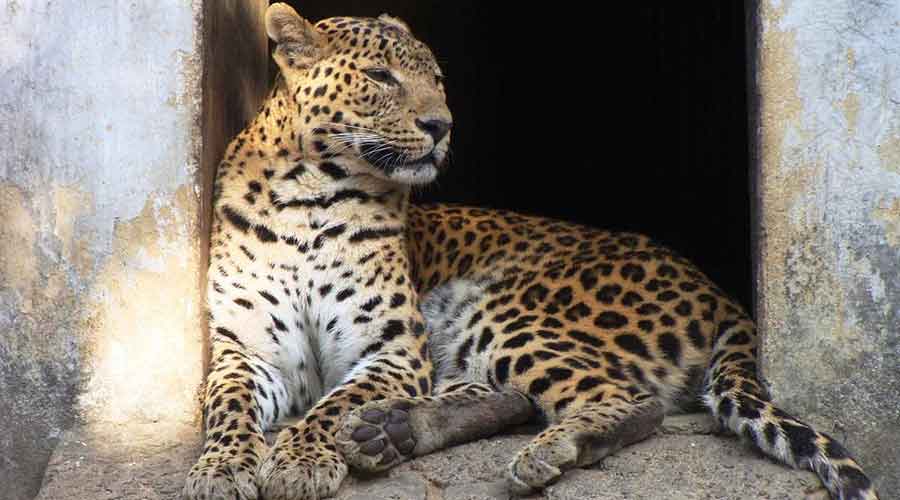 ---
Bolpur/ Tamluk
|
Published 08.10.21, 01:36 AM
|
---
Panic spread in and around Jhargram town after a leopard fled from its enclosure of a zoological park on Thursday evening.
The female leopard, Harshini, 5, weighs around 40kg and was brought to the Jungle Mahal Zoological Park in Jhargram town three years ago from north Bengal.
Police, the local administration and foresters made public awareness announcements from Thursday evening asking people to be alert and inform police or foresters if the animal was spotted.
"An important piece of information for the people.... A leopard has fled by breaking its cage at Deer Park (the popular name of the zoological park). We request you all to be alert and safe. If you see any such animal, please inform the forest department or Jhargram police station," police announced on mics.
Birbaha Hansda, minister of state of forest department and Trinamul MLA from Jhargram, said the department would hold a thorough probe to find out who were responsible for the incident.
"Our forest officials are searching for the leopard and we have sought help from the police. We will certainly conduct a probe as negligence led the animal to flee from a zone which is under 24/7 surveillance," said Hansda.
A forest official said there were two leopards in the enclosure but only one of them escaped. The official added that the wire fencing of the enclosure had been damaged and repair was on when the leopard fled.
"Forest officials informed us around 4.30pm about its disappearance from the zoological park. We alerted all concerned to avert any mishap," the official added.
Pradip Sengupta, the range officer of Jhargram, said the leopard was missing from its enclosure and might cover a greater distance if not caught.
"We have involved several teams with search lights and have fielded them at various strategic locations to spot the animal," said Sengupta.
"The forest department said in their letter that they realized the leopard was missing at around 4.30 pm but are not sure when the animal left the zoo premises. It proves that the staff of the zoo was lackadaisical," said a district official.
Divisional Forest officer of Jhargram, Sheik Fareed J., did not take calls or reply to a text message from this newspaper till late evening.