Left and Congress eye joint declaration of nominees in Bengal
Congress will contest from 17 seats, the Left from 25 Lok Sabha segments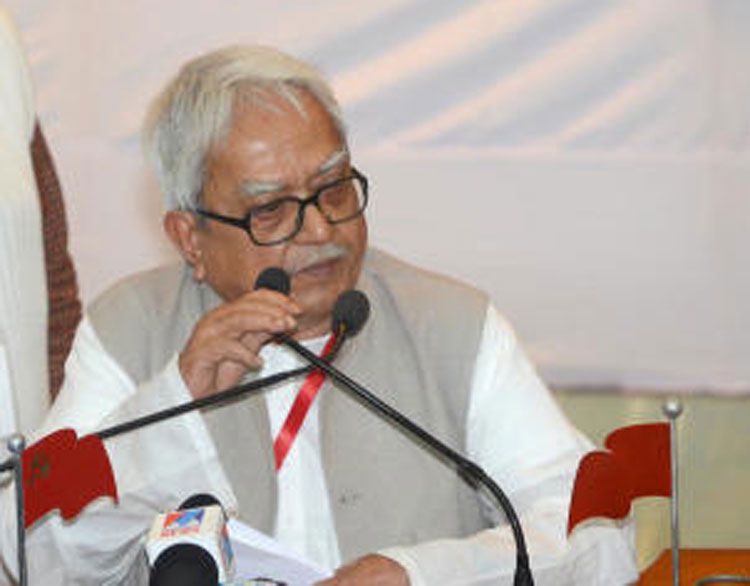 Left Front chairman Biman Bose
Telegraph picture
---
Calcutta
|
Published 11.03.19, 08:55 PM
|
---
The Left Front is likely to announce its candidates in Bengal along with those of the Congress following a request from the Congress to declare the contestants simultaneously, said sources in the CPM.
Earlier, the Front had planned to announce its 25 candidates on Wednesday. The CPM sources said the matter would be discussed with other Front constituents on Tuesday.
The state leadership of the CPM and the Congress met on Monday evening to discuss allocation of seats. While the Congress will contest from 17 seats, the Left has been allocated 25 Lok Sabha segments in Bengal.
The meeting on Monday focused on the 13 seats — other than the four the Congress won in 2014 — that could be vacated for it by the Front.
Sources said the Congress wanted a seat each in the districts of Hooghly, Howrah, West Midnapore, East Midnapore, Calcutta, North 24-Parganas, East or West Burdwan. They said the specific Lok Sabha seats the party had asked for are Darjeeling, Jalpaiguri, Krishnagar, Basirhat, Purulia and either Bankura or Bishnupur.
A state Congress leader said the party was most keen on Jalpaiguri and Purulia.
"The CPM fields its own candidates in all the specific seats we have asked for, except Purulia — which is traditionally given to the Forward Bloc — and Basirhat contested by the CPI. The CPM is willing to give up its claim on the seats where it fields its own candidates," said the Congress leader, adding that the CPM offered to negotiate with the Front partners.
"Neither the CPM nor the Congress is willing to let these minor bottlenecks get in the way of the seat-sharing," he added.
Earlier on Monday, Front chairman Biman Bose had held a meeting with the CPI and Bloc to tell them that the Congress would like the Basirhat and Purulia seats. Sources said the CPI and Bloc, despite their reluctance, were asked to pick other seats within the 25-seat pool that the Front wants to keep for itself.
"After a lot of negotiations, the Congress could be convinced to give up claim on Raiganj and Murshidabad for the sake of the seat-sharing. We cannot keep asking them to forego every seat they ask for," said a CPM insider.
"The Front partners have to understand the importance of the electoral understanding, as it is being forged to last till the Assembly elections of 2021, at least…. Everybody has to make some room here," he added.