Landowners seek action against land-grab instances in Bolpur and Santiniketan
Residents form committee, ask Nabanna to look into forged deeds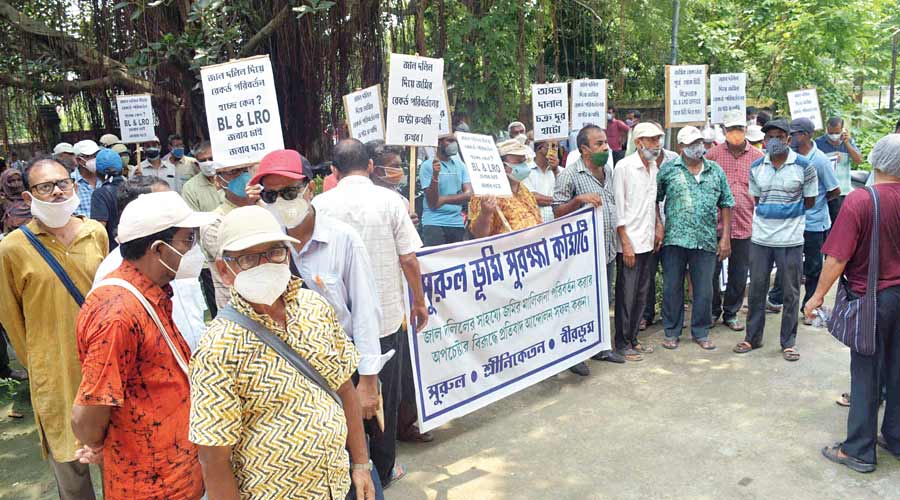 ---
Bolpur(Birbhum)
|
Published 27.07.21, 01:29 AM
|
---
Over a hundred landowners in Bolpur and Santiniketan have formed a committee and submitted a memorandum to the local land revenue office demanding action against the alleged growing instances of land-grab through fake deeds.
Residents on behalf of the Surul Land Protection Committee sent a copy of the memorandum to the Nabanna top brass, including the office of chief minister Mamata Banerjee, to seek their intervention.
Sources said the land mafia were forging old deeds to sell land even as original owners remained in the dark.
Another source said that once land is sold to a person with fake documents, the same land is quickly sold again and again to other clients to create a chain of owners so that tracing the original fraud gets difficult. "Landowners come to know about this fraud when new owners come to take possession of the land," said a source.
"A property belonging to my family in Santiniketan worth around Rs 85 lakh has been recorded in the names of strangers with the help of forged property deeds. The practice has taken a serious turn in Santiniketan as at least 50 landowners faced the problem with the land mafia attempting to forge their documents too," said Debasish Sarkar, a professor of agricultural economics in Visva-Bharati.
The headmaster of Bolpur High School Supriya Sadhu recounted his experience of his four bighas being "fraudulently" recorded in the names of strangers without his knowledge. "This happened three years ago. I am fighting to get my land back and the accused person who forged my deed has been arrested. Such cases are increasing," said Sadhu.
Birbhum district magistrate Bidhan Ray said he had asked the additional district magistrate (land) to take up the issue and submit a complete report regarding the allegations of malpractices.
"We will not spare anyone involved in such illegal activities. I have already asked my senior officials to submit a detailed report and we will take stern action," said Ray.
Sources said activities of land mafia were increasing in Santiniketan and Bolpur after the price of land here shot up.
"The activities of land mafia have increased over the past 10 years and now it is beyond control as Santiniketan and Bolpur have become a hub of several housing projects. Land that used to be sold for Rs 50,000 per cottah a decade ago is now priced at around Rs 4-5 lakh a cottah. The activities of land mafia must be curbed or else legitimate landowners will suffer," said a source in the land department.
Sanjoy Roy, the block land and land reforms officer of Bolpur, said the local residents had provided instances of at least 60 such attempts to change records by using forge deeds.
"We always send letters to owners before we change the names in the land record through mutation. We will conduct a probe with each attempt to find the culprits who are attempting to change the record with false documents," Roy said.
A government official said that the market value of these 60 properties was around Rs 100 crore.
According to the government directive, if any such case of property fraud was found, the land department should immediately lodge a police complaint against the person who had appealed for getting the property transferred in his or her name. "We got three specific complaints since February this year. We have sent the copy of the deeds to the sub-registrar's office to know if such deeds existed. Once we get the report, action will be taken," Roy added.
Sources in the district administration said land of tribal people were also being sold off via forgeries.
"Allegations of such practices are prominent in pockets of Santiniketan like Prantik, Surul, Goalpara and Taltore areas," said a source.