Kalimpong rain hits tourists on Dashami
The downpour was close to 50mm in some locations, which raised the water level of streams such as Murti and Neora that pass through the fringes of the Gorumara National Park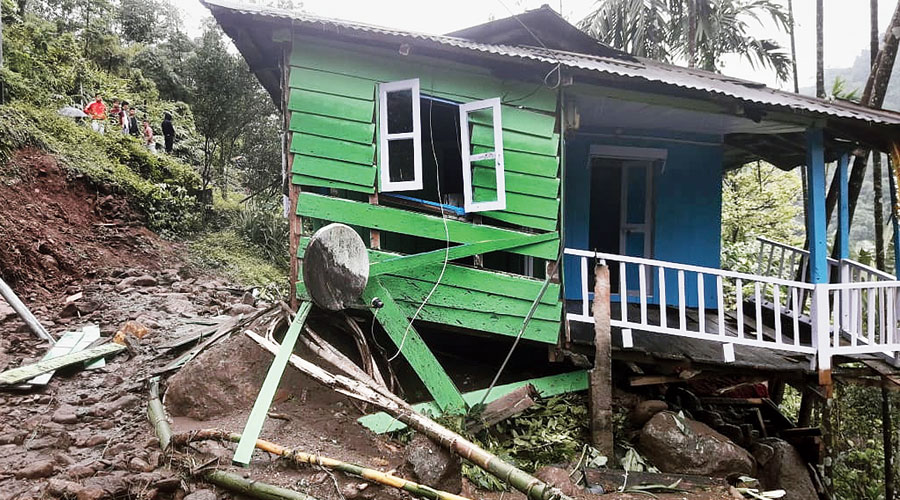 ---
---
A sudden bout of downpour in the upper reaches of Kalimpong hills since Sunday night came as a spoiler for hundreds of tourists and day-outers who had gathered on Dashami Monday near streams that originate from Kalimpong and move through some prominent tourist destinations of the Dooars.
In Kalimpong hills, it rained close to 50mm in some locations, which raised the water level of streams such as Murti and Neora that pass through the fringes of the Gorumara National Park.
Officials of the state forest department deputed forest guards near banks to prevent anyone from wading into the streams.
"We are keeping a watch on the banks. Unless the water levels recede, we will not allow anybody into the streams," said Nisha Goswami, the divisional forest officer of Gorumara wildlife division.
Visitors were disappointed. "We had made plans to bathe in the Murti and then enjoy a festive lunch on occasion of Dashami at any nearby food joint. But we found that the river had swollen and was gushing forth. For safety's sake, we only stood on the banks and took a walk on the bridge," said Debasish Chakraborty of Jalpaiguri who went with wife Mou to Murti near Lataguri, the most popular tourist destination in the Dooars.
While Neora flows through a comparatively deserted area, the swollen Murti also left the local taxi stand inundated. Also, the space where tents are laid on the banks of Murti for tourists got flooded too.
The downpour led to mudslides in some locations, and damaged a house in Rocky Island, another destination for tourists near Samsing in Matialli block of Jalpaiguri.
In the Lower Rumtikhola area, the house of one Robin Pradhan was completely damaged by a mudslide on Monday. "We are fortunate that the slide occurred in the morning. Initially, stones and boulders started falling on the house. We immediately shifted to a nearby place. Then we saw a mudslide approaching the house, and that eventually left the house completely damaged. We are homeless now and don't know what to do next," said Pradhan.
Sources in the Met office said that southwest monsoon had started withdrawing from most places.
"However, there is still a forecast of moderate rainfall in some north Bengal districts and in Sikkim during next couple of days," said a weather expert.