January debut for electric bus fleet in Calcutta
80 such buses will ply across 10 routes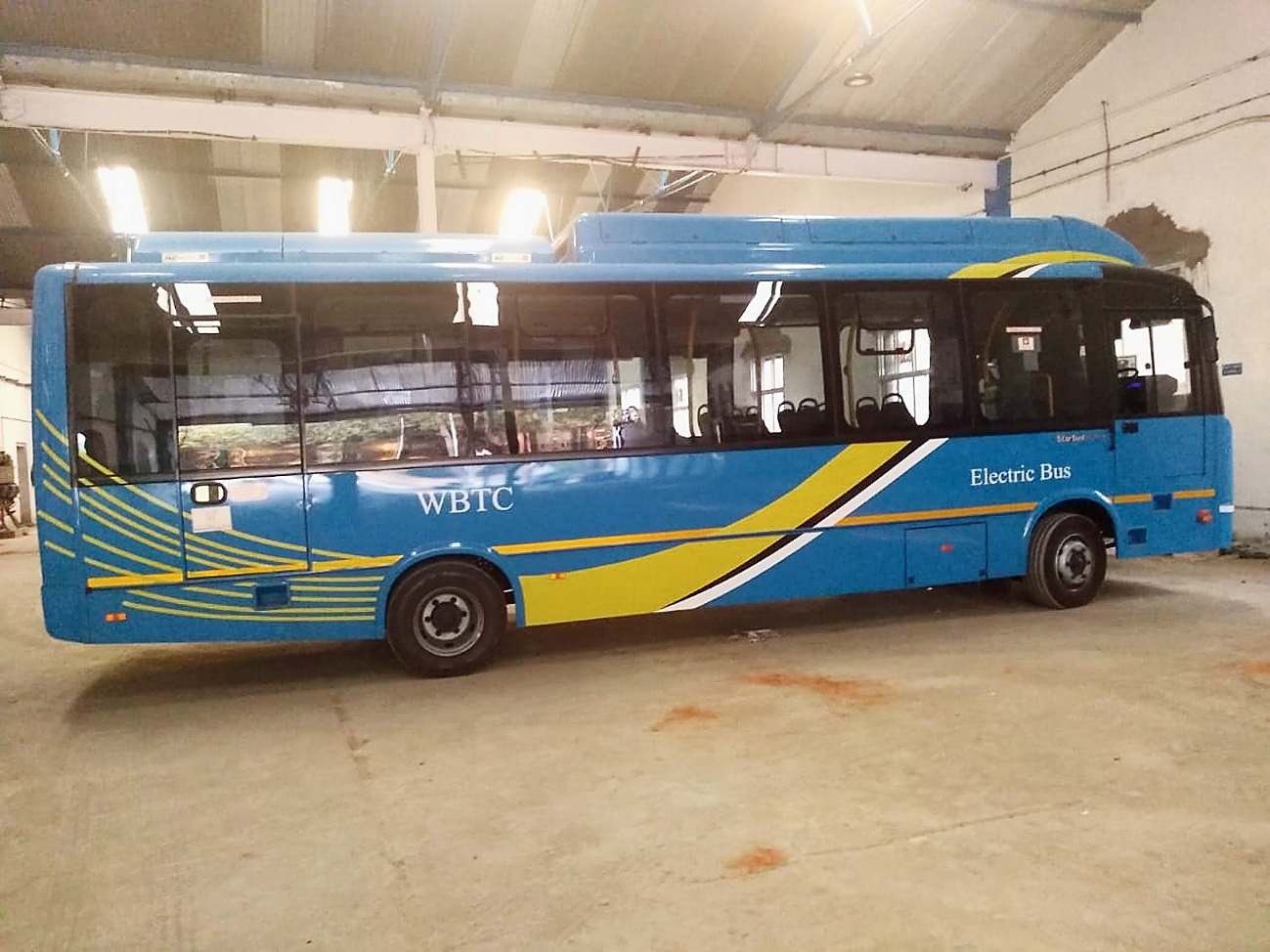 One of the electric buses at the shed at Nonapukur tram depot.
The Telegraph picture
---
Calcutta
|
Published 14.12.18, 09:52 PM
|
---
Calcutta's centuries-old mass transport system is set to shift gears and go green as battery-run buses hit the roads by January-end.
Eighty such buses will ply across 10 routes. The move is aimed at reducing vehicular pollution, transport bosses said.
Two of these buses have reached the city and 20-odd are scheduled to arrive by next month. The heavy industries ministry will provide 60 per cent of the funds for such purchases across 11 cities with a million-plus population.
Tata Motors, which emerged as the lowest bidder for Calcutta and a few other cities, will supply the buses.
"A team of engineers from the company has already held several workshops with our drivers and maintenance staff. We have done a few trial runs with the two buses," a West Bengal Transport Corporation official said.
"An electric bus shed has been built at the Nonapukur tram depot where 10 buses will be stationed. We have installed charging stations as well."
The buses will either 9m or 12m long. The shorter one will cost Rs 34 lakh while the longer Rs 88 lakh.
Forty buses of each of the variants will be on the roads with options for slow and fast charges.
The 9m buses will have two batteries while the other three.
"The fast charging set costs Rs 15 lakh and can charge the batteries of a bus in two hours. The slower one will take six hours. Seventeen such charging stations will be set up across the city," a West Bengal Transport Corporation engineer said.
"Roughly, we have worked out that a bus will consume a unit to run a kilometre."
The National Green Tribunal recently fined the Bengal government Rs 5 crore for failing to take adequate steps to curb pollution.
The principal reason for the poor ambient air quality in the city and Howrah is auto emission, the Eastern Bench of the tribunal had observed in its order on November 27.
"The initial investment for the buses is very high," a transport department official said. "The cost of an electric bus is three to four times the price of a CNG or diesel bus. The high cost is because of imported technology and the cost of battery manufacturing mechanisms."
The fares for the AC buses will be the same as that of AC Volvo buses — Rs 25 for the first four kilometres. But the ride will be smoother. The suspension of these buses is a mix of air and spring.
"A fully charged bus can run around 150km. We are in the process of working out if it is enough for a bus to complete its run in a shift that lasts around eight hours," the official said.
E-bus features

No gears, no clutches, bigger entry-space for commuters

Rear camera to help drivers park

Charging point near driver
Emergency button for technical support in front of driver

Screen above driver's seat showing battery temperature and charge